# Description
Cruise
AMSTERDAM - DÜSSELDORF - COLOGNE - KOBLENZ - MAINZ - STRASBOURG - BREISACH - BASEL
From Amsterdam to Basel, sail along the mythical Rhine and ride your bike through charming cities and authentic towns. Explore Cologne, steeped in history, combining modern architecture with Gothic churches: you will be dazzled by its majestic cathedral. Discover Colmar and its surrounding area revealing a diversity of landscapes from plains to mountains and vineyards, as well as many typical villages like Eguisheim and Riquewihr, known as some of the most beautiful in France.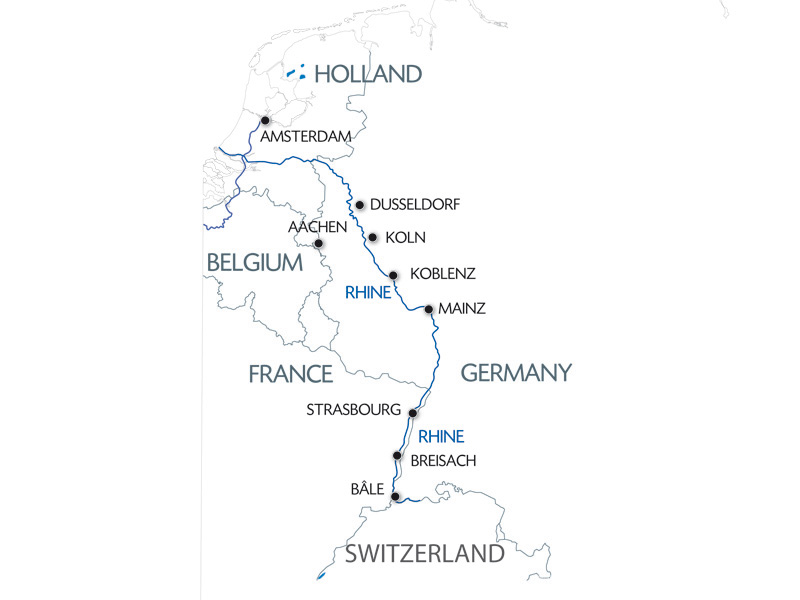 THE CROISIEUROPE DIFFERENCE
All meals included - DRINKS INCLUDED with meals and at the bar
Refined French cuisine - Gala dinner and evening - Welcome cocktail
Free Wi-Fi onboard
Headsets are included for excursions
Official welcome from the captain and crew
Onboard activities
Travel assistance and repatriation insurance
All port fees included
CRUISE HIGHLIGHTS
From the canals of Amsterdam to the Rhine, the Rhine Valley offers a spectacular tour.
English-speaking tour guide for the entire cruise
Bike provided
On-call maintenance and repair service
All bike tours are included
All departure dates are currently sold-out.
Sales
Child discount (2-9 years) : - 20%
Ships
Several ships available for this cruise
Valid passport required. Non-EU nationals are advised to consult their embassy or consulate.
---
CROISIBIKE
Practical Information
+ Types of bikes:
Unisex hybrid bikes that can be used by both men and women (flat handlebars), similar or equivalent to the Alpenchallenge AC01 with Shimano 105 or Ultegra derailleurs.
- High-quality Shimano 105 or Ultegra derailleurs make climbing hills easier
- Disc brakes for better stopping ability and avoiding skidding during rain
- A maximum 10 kg (22 lbs.) bike weight for optimal comfort
The bikes used currently are BMC Alpenchallenge AC01 Deore XT/SLX. Our partner will be upgrading their fleet in 2017.
Extra-padded seats for women.
Pouch for accessories (camera, windbreaker, etc.). Please do not carry large items with you.
Each bike is equipped with a GPS programmed with the day's itinerary so that everyone can bike at their own pace.
Passengers can bring their own cleated cycling shoes, but you must also bring your own pedals so that they can be attached to our bikes.
+ Where we bike:
On paved roads or bike paths.
We will not go on mountain bike routes.
+ Biking while the ship cruises
One or more minivans with guide(s) will follow the group of cyclists.
Bikes will be stored in the minivan and picked up each day by passengers.
For the slightest problem, the driver of the minivan will either repair the bike or replace it.
Here is a FAQ list for several recurring questions:
Can I stop cycling during the day's tour, and if so, how do I get back to the ship?
o Yes. Vans will be provided with an extra seat for each passenger if needed.
o The return to the ship will be done at the first opportune moment; the passengers on the bike tour will remain our immediate priority.
Can we request an e-bike?
o Yes. Please ask for our rates.
What happens if I get a flat tire?
o Our guides will repair it!
Some travel agencies think that tours over 31 miles per day (50 km) are too much for the average client.
o That's why the shortest option each day will not be over 22 miles (35 km), except for one specific day on the Rhine.
o If needed, our vans will be available for passengers who would like to stop.
o Don't forget that elevation gain is a very important aspect of biking: 31 miles (50 km) along the flat Danube route is very different than even 6 miles (10 km) up to Mont-Sainte-Odile.
o Our goal is to offer as many options as possible so that different level passengers can participate in the same tours.
o Even beginner cyclists will enjoy our tours because the shortest itinerary will never be longer than 22 miles (35 km).
Just for kids:
Do you have bikes for kids? What age must they be and what are the sizes?
o We can provide wheels for children under the following conditions:

Kids' bikes
• Children can ride on their own from 8 years and up
• 20" bike for children between 3' 11" and 4' 3" (120 to 130 cm)
• 24" bike for children between 4' 3" and 5' 1" (130 to 155 cm)
Trail-a-bike
• Maximum weight = 83 lbs. (38 kg)
• For ages 4 to 7
Bike trailer
• Maximum weight = 60 lbs. (27 kg)
• For ages 1 to 3

o Parents must have the Trail-a-bike or bike trailer attached to their bikes
o PLEASE NOTE: you must request these accessories when placing your order
Are the tours and itineraries adapted to children?
o All of our tours are designed to limit contact with road traffic as much as possible.
o If vehicle circulation during a specific tour becomes excessive, transfers for the children will be organized to remove them from any possible danger.
If our kids get tired, can they recuperate in the minivan?
o This is always possible when accompanied by a parent.
o For children less than 4 years, parents must provide an adapted car seat for the van.
o For children who are older, booster car seats are usually provided.
Can children ride in the minivan without a parent?
o NO



If you have any questions, please feel free to get in touch with us. We update this information sheet regularly.
---
For navigational safety reasons, the company and the captain are the only authorized persons who can modify the cruise itinerary. The program is guaranteed only for a minimum of 8 passengers.
*Alcohol can be dangerous to your health. Please drink in moderation.