# Description
Cruise
ABU DHABI - DUBAI - KHASAB - SUR - MUSCAT
Join us on the Desert Cruise and plunge into the fascinating and little-known history of the United Arab Emirates and the Sultanate of Oman. The Arabian Peninsula has always been an inevitable port of call on the sea route to India. Over the past 30 years, the skyscrapers of the United Arab Emirates have sprung from the desert sands to mingle with the clouds. Despite this flourishing growth, the country has carefully preserved its culture by way of its rural past mixing with ultra-modern large cities. The Sultanate of Oman cultivates its authenticity by distinguishing itself from its neighbors: grandiose landscapes, high mountains, and long stretches of sand, desert, and wadis. Visitors are fascinated by the multiple facets of Oman's countryside, history, and culture. Welcome to the country where mirages become reality.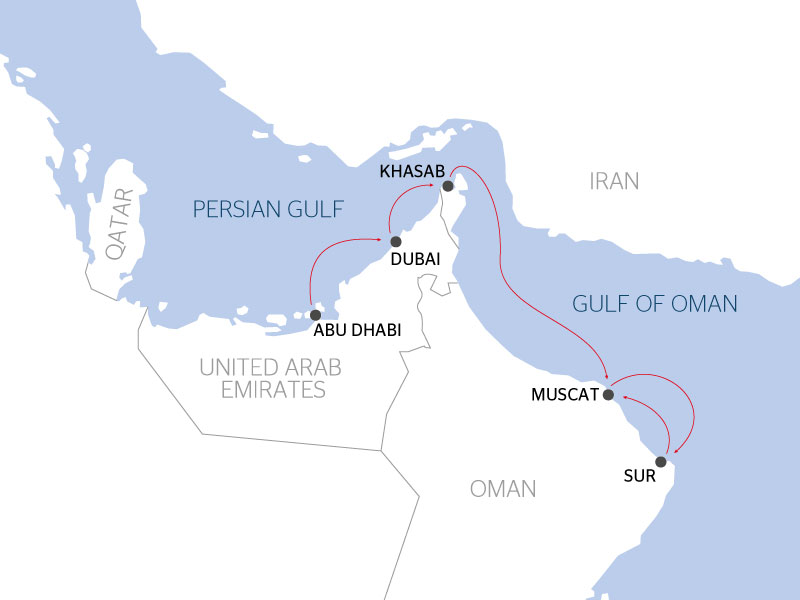 THE CROISIEUROPE DIFFERENCE
All meals included - DRINKS INCLUDED with meals and at the bar
Refined French cuisine - Gala dinner and evening - Welcome cocktail
Wi-Fi on board
Headsets are included for excursions
Official welcome from the captain and crew
Onboard activities
Travel assistance and repatriation insurance
All port fees included
CRUISE HIGHLIGHTS
Cruise on a dhow, a traditional Arab sailing vessel, to the heart of the Musandam Peninsula fjords
EXCURSIONS INCLUDED:

Visit the Louvre Abu Dhabi, the top universal museum in the Arab world
In Dubai, ascend to the top of the Burj Khalifa, the highest tower in the world at 2,716.5 feet (828 meters)
Revisit history in the Sultanate of Oman by following the route of Oman's fortresses
Meet and chat with an Omani family in the village of Al Hamra
Take a refreshing swim in Wadi Bani Khaled
Enjoy an exciting, four-wheel-drive excursion through the Wahiba Sands desert
All departure dates are currently sold-out.
Sales
20% discount for 1 child between 2 and 9 years old sharing a cabin with 1 adult (on the price of the cruise only - excluding supplements and service fees)
30% discount for 1 child between 2 and 9 years old sharing a cabin with 2 adults (on the price of the cruise only - excluding supplements and service fees)
Ships
Several ships available for this cruise
United Arab Emirates: For French, Belgian, Swiss, and Canadian nationals: a valid passport is sufficient to enter the territory of the United Arab Emirates (no visa necessary). The passport must be valid at least 6 months beyond the date of your entry into the Emirati territory.
Oman: For French, Belgian, Swiss and Canadian nationals: passport that is valid for 6 months after your date of return and mandatory Omani e-visa.
The average delay for an Omani visa, if you apply directly to the embassy yourself using the website https://evisa.rop.gov.om/, is approximately twenty working days. CroisiEurope can take care of the paperwork and make the request for you for a fee, and in this case, the application would need to be processed 30 days before your departure date.
For other nationalities: please consult the competent authorities (consulate/embassy) before your trip.
---
EXCURSIONS:
Excursions are only available for purchase up to 15 days before your trip begins. Certain excursions are programmed at the same time and cannot be combined.
Excursions will alternate between air-conditioned buses and small local boats.
The excursions will be narrated by a local tour guide, and you will have earphones for easier listening.
PRECAUTIONS
Vaccines are not mandatory for this trip. It is nevertheless advisable to be up to date with the following vaccinations: tetanus, polio, hepatitis A and B, diphtheria, and typhoid fever. The use of mosquito repellent is highly recommended.
CURRENCY EXCHANGE
For the current exchange rates for the Emirati dirham and Omani rial, please consult websites such as www.xe.com or www.onada.com/currency/converter.
You will be able to find currency exchange offices and automatic teller machines easily.
There is no currency exchange service on board.
WEATHER
In terms of weather, the most pleasant period for visiting the United Arab Emirates and the Sultanate of Oman is between November and February. This will allow you to avoid seasons of heavy rain or unbearable heat. Temperatures range between 64°F (18°C) in the morning and 82°F (28°C) in the afternoon. It can be chilly in the Omani mountains. The temperature of the sea is around 75°F (24°C).
TIME DIFFERENCE
You can consult www.worldtimezone.com to see the time difference between your home and your destination.
---
Additional information
Useful info
INTERNET
SATELLITE CONNECTIONS
Our ship provides Internet connection via satellite while we cruise, which is different and slower than what we are used to through our regular home or office services. We cannot guarantee connection at all times. Please keep this in mind while you are enjoying your vacation with us.
TELEPHONE SERVICE
DURING CRUISE
When we are at sea, you can connect your device(s) to the onboard GSM/3G network. Your service provider will automatically send you the terms and conditions of use for this service. You will be able to make calls, send messages, or use the Internet through this network's roaming services. The GSM network will be turned off once the ship enters a port.
WHILE IN PORT
When the ship is in a port, you will be able to receive and make calls via your international calling/service plan according to the country you are visiting.
WATCH OUT FOR SERVICE FEES
We strongly recommend that you contact your service provider before your departure; international calls and data usage can be very costly and are almost never included in basic operator packages.
PLEASE CHECK THE SETTINGS FOR YOUR DEVICE
Once you are on board, but before you connect to the Internet, please check the settings for your device(s). We request that you limit the downloading of videos and large-volume files. Automatic updates to your PC, tablet, and smartphones will affect the speed and cost of your connection. You probably have automatic updates for apps on your devices that you are not aware of. We recommend that you deactivate these updates while you are staying with us.
---
These cruises and tours are not recommended for persons with reduced mobility. You must be in good physical condition to participate. Certain visits are done on foot.
The captain of the ship is the sole authority who can modify the ship itinerary for safety or navigational reasons.
The excursions may be modified or their order changed due to technical requirements, cultural events, etc. In addition, local authorities may decide to close certain sites or museums without prior notice. If this happens, we will propose an alternative.
We recommend travelers wear long skirts/dresses/pants and long sleeves when visiting monuments in these countries. Women will need to cover their hair when visiting certain sites.
(1) These excursions are programmed at the same time and cannot be combined.
Alcohol can be dangerous to your health. Please drink in moderation.