# Description
Cruise
SAINT PETERSBURG - MANDROGI - KIZHI - GORITSY - UGLICH - MOSCOW
Nothing is better than a cruise through Russia to understand just how immense the country is. Our itinerary visits the two main cities: opulent Saint Petersburg and traditional Moscow. Following the ancient Slavic routes, you'll discover the riches found in the Golden Ring and the wooden architecture in the Republic of Karelia. Our cruise provides a complete and fascinating perspective on the historic and religious foundations of one of the largest empires in the world. We'll bring daily Russian life directly to you—whether in the cities or in the countryside, visiting sumptuous palaces or humble izbas.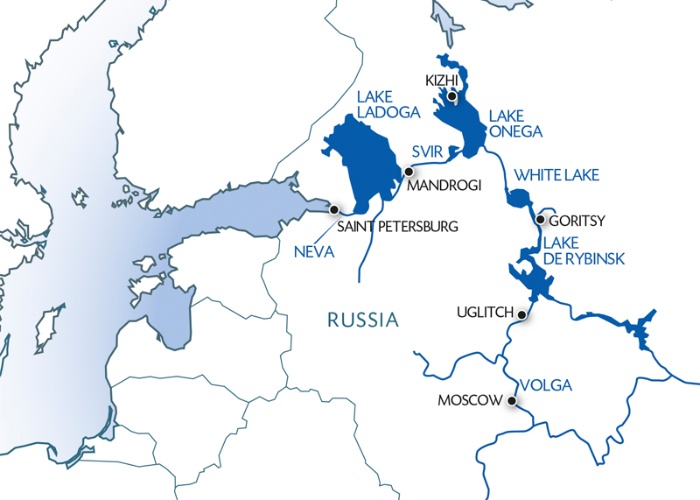 THE CROISIEUROPE DIFFERENCE
All meals included - DRINKS INCLUDED with meals
Refined local cuisine
Headsets are included for excursions
Official welcome from the captain and crew
Tour leader or cruise director on board
Onboard activities and/or lectures
Travel assistance and repatriation insurance
All port fees included
HIGHLIGHTS
Guided tours of Saint-Petersburg and Moscow
Visit sites listed as World Heritage Sites by UNESCO: Saint-Petersburg, Kizhi, the Kremlin and the Red Square
Discover rural Russia in Goritsy and Mandrogi
START IN
2019
* Price based on double occupancy
Sales
Formalities
valid passport compulsory. Non-EU nationals are advised to consult their embassy or consulate. Please note: Your passport must be valid for six months beyond the last day of your travels.
Ships
Several ships available for this cruise
These cruises and tours are not recommended for people with reduced mobility. A good physical condition is a prerequisite. Many of the visits are on foot.
HEALTH
No mandatory vaccines, although a diphtheria vaccine is recommended.
MONEY-EXCHANGE RATE
On board as well as during excursions, payments will have to be made in rubles. Rubles are to be exchanged on site. 1€ = approx. 70 RUB* (Russian Rubles). Euros and US dollars are accepted only at tourist shops (in small denominations). Most payments can now be done by credit card. Please do not bring traveler's checks. No currency exchange will be possible on board.
*Exchange rate of January 2018
WEATHER
The weather in the area is extremely cold in the winter and hot in the summer, with very short springs and falls. Spring arrives at the end of April in Moscow. The weather is usually sunny and it warms up quickly, but temperatures fall again during the evening. Once June arrives, summer is in full season. It is often very hot in Moscow, with frequent thunderstorms. It is a bit more temperate on the Baltic coasts or in Saint Petersburg, where the White Nights can be chilly. Autumn can be unpredictable. From September onward, warm days alternate with cold days in both Moscow and Saint Petersburg.
YOUR BAGS
Bring seasonal clothing and comfortable shoes for the visits. Many tours are on foot and the streets have cobblestones. Remember to bring sweaters and rain gear, as well as evening attire for dinners and particularly for the Captain's Dinner.
TIME DIFFERENCE:
You can consult www.worldtimezone.com to see the time difference between your home and your destination.
PLUGS AND VOLTAGE:
220 volts — please bring the appropriate adapters and converters.
NATIONAL HOLIDAYS
May 9th as well as June 12th are Russian National Holidays and the traffic in the city center can be interrupted at any moment. This can also occur during the week leading to the holidays. Excursions and visits may have to take place in a different order or have to be cancelled altogether without warning.
"WHITE NIGHTS" IN SAINT PETERSBURG FROM MAY 25TH TO JULY 16TH
No other major European city can rival the experience nor the atmosphere on the streets of St. Petersburg during the White Nights - lively, friendly, romantic and bustling with people throughout the night as well as the day!
EXCURSION INFORMATION
Coaches in the smaller cities can be of limited comfort.
Depending on the days the sites and museums are open, the order of the visits and the entertainment can be modified.
Russian authorities can unexpectedly close certain sites or museums. If this occurs, we will propose an alternative.
Certain places we will visit have very high levels of security. The Kremlin, for example, is not only a tourist site, but the seat of the Russian government. We cannot be held liable for any unforeseen closings, but we will commit to doing our best to ensure comparable substitute excursions. Frequent traffic jams in Moscow and Saint Petersburg can disturb the sequence of certain excursions.
Depending on your return flight, you will be offered the opportunity to eat lunch on board the ship on the final day for an additional cost.
The Russian ships are not a part of the CroisiEurope fleet.
Navigational obligations, weather conditions and passage through locks can disrupt the itinerary, and for safety reasons, stops may be canceled. Nevertheless, this remains extremely rare.
For navigational safety reasons, the company and the captain are the only authorized persons who can modify the cruise itinerary.
We would like to remind passengers with reduced mobility that many of our tours are done on foot.
*Alcohol can be harmful to your health. Please drink in moderation.