# Description
Cruise
SOUTH AFRICA - BOTSWANA - NAMIBIA - ZIMBABWE
Welcome to South Africa!
CroisiEurope brings you to the ends of the world in luxury at our top-rated lodge and on our new "5-anchor" rated ship. An up-close and personal experience with nature, along with CroisiEurope's excellent service and savoir-faire.
Port-to-port - Cruise on the African Dream/Stay at your Croisieurope Lodge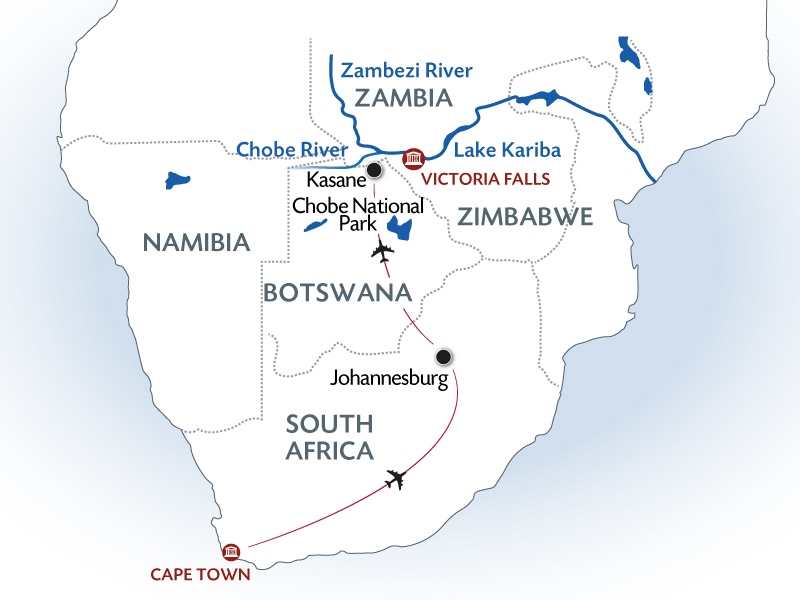 EXTENDED STAY
The Cape of Good Hope:
Ascent of Table Mountain to take in the views from Table Bay
Discovery of the legendary Cape of Good Hope
Guided tour of Robben Island
Tasting of South-African wines at a reputable estate
Meet-up with the penguin colony near Simon's Town
***
CroisiEurope's luxurious and comfortable lodge and ship provide an intimate look at the nature to be found
***
Unique cruise on Lake Kariba through emblematic and mysterious landscapes where drowned, bare trees reach skywards from the depths
***
Land and water safaris give you an up-close experience of two regions and ecosystems in Chobé National Park and Lake Kariba
***
The grandness of Victoria Falls is waiting for you
***
Enjoy authentic traditional cuisine and learn about age-old customs
START IN
2018
* Price based on double occupancy
Sales
15% discount for 1 child from 7 to under 17 years old, sharing 1 cabin/room/bungalow with 1 or 2 adult(s) client(s) (excluding international flights, taxes, additional costs, visa and booking fees). Discount valid for the safari-cruise and the Cape of Good Hope pre-cruise program and limited to 1 child per room.
Under 7 years old, children aren't allowed for security reasons.
Formalities
Non-EU nationals are requested to consult their embassy or consulate.
IMPORTANT: Please make sure to check the mandatory travel requirements for minor children as specific documents will be asked to enter and leave South Africa.
The following information has been put together from the official French website http://www.diplomatie.gouv.fr which was updated on December 28th, 2017. It is given for guidance only and may be modified at any time. This information cannot anticipate the sovereign application thereof made by the authorities of the countries to be visited, nor by the airlines.
All parents are requested to produce legal proof of filiation with their children upon entering and leaving South Africa. This rule is enforced at all borders point of the country.
Specific documents may be requested according to the following situations:

1/ Minor traveling with both parents
2/ Minor traveling with one parent who is not separated from the other parent
3/ Minor for whom one parent is deceased
4/ Minor traveling with one parent who is legally separated or divorced from the other parent
5/ Minor traveling with an adult who is not a parent
6/ Minor traveling alone
It is crucial for guests travelling to South Africa with minors to consult the South African Embassy in their own country and check the entry and travel requirements for all countries to be visited.
Ships
Several ships available for this cruise
The tour itinerary can change depending on the weather.
The order of the visits can change.
The observation of wildlife can't be guaranteed.
The helicopter ride depends on suitable weather conditions.