© G. Fey
# Trip
Audio tour of Auvers sur Oise castle
Description
Departure by coach in the company of your hostess for a visit to the Château d'Auvers-sur-Oise. An animated tour will take you on a "journey back to the time of the Impressionists" on the tracks of the Master Painters who left their mark on the town's history including Daubigny, Pissarro, Cézanne, Monet, and Van Gogh. An audio tour will guide you through the various rooms of the Château where you'll get a grasp of life in Paris in the 19th century thanks to the reconstructed décor and atmospheres reminiscent of the Impressionists' favorite themes.
There are more than 500 paintings set to motion, visual and sound effects, popular music and songs of the time, extracts from old films, photo archives, clothing and other objects from that period. The Château also houses temporary exhibitions, a restaurant with a terrace for hot days, a tree-filled park and French formal gardens, cultural and festive events, floral art and painting workshops. Towards the end of your tour, you'll get a better understanding of the role of Impressionism in Art history by watching the film "The Seekers of Light". We'll return on board by coach at the end of the morning.
Duration : approx. 3:00
Good walking shoes are recommended.
Visit with an audio tour.
The order of the visits can change.
Times are approximate.
These excursions are not proposed for all the cruises and depend on the itinerary.
If the minimum of 25 participants is not reached, the excursion may be either cancelled or proposed at another rate, depending on the number of participants (to be paid for on board).
The excursions on the first evening and the morning following boarding are only guaranteed for the passengers who have booked the excursion before the cruise.
Cruises
This shore excursion is available for one or several cruises
Show more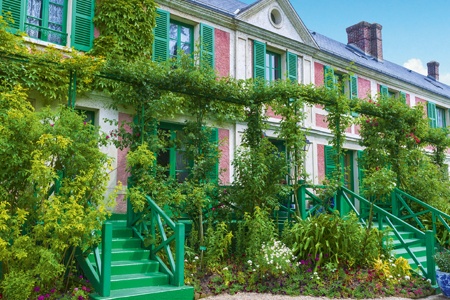 © Shutterstock
Next departures:
06/21/2020, 07/02/2020, ...
PARIS - GIVERNY - VERNON - ROUEN - DUCLAIR - HONFLEUR
Art and culture enthusiasts can dive into the world of impressionist painters on our cruise along the Seine. There are many fine art museums, including the famous Marmottan Museum, but also the sumptuous residence and the impressive gardens of Claude Monet. It is also possible to explore emblematic cities of the Impressionist movement such as Rouen and Honfleur during our themed tours.
START IN
2020
* Price based on double occupancy