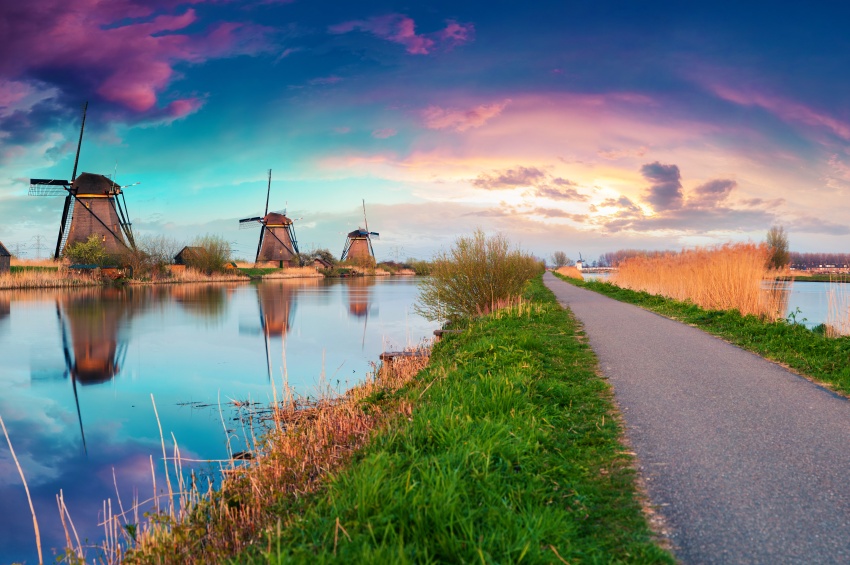 © Andrew Mayovskyy
# Trip
Excursion to the Kinderdijk windmills
Description
Departure on foot towards the famous Kinderdijk windmills. This unique place combining a large number of windmills has been listed as a World Heritage Site by UNESCO since 1997.
You'll be able to admire no less than 19 windmills coming from different areas such as Nederwaard, Overwaard, Nieuw-Lekkerland and Blokweer, all with their specificities - either made out of stone, wood, or having been built on polders. The 1521 windmill from Blokweer was unfortunately destroyed by fire in 1997, though every effort has been made to rebuild it to its original state. A film will tell you all about this remarkable site and a visit to one of the mills will give you an insight on the life and everyday work of a miller. If the weather allows it, you may be lucky enough to see the sails in action! We'll walk back to the boat along the seawall.
Duration: approx. 2:00

In case of bad weather, we won't be able to visit the windmill..
The order of the visits can change.
Times are approximate.
These excursions are not proposed for all the cruises and depend on the itinerary.
If the minimum of 25 participants is not reached, the excursion may be either cancelled or proposed at another rate, depending on the number of participants (to be paid for on board).
The excursions on the first evening and the morning following boarding are only guaranteed for the passengers who have booked the excursion before the cruise.
Cruises
This shore excursion is available for one or several cruises