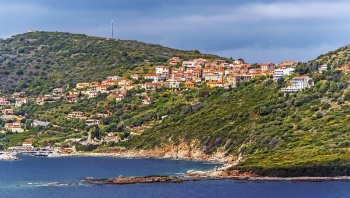 © Sasha64f
# Trip
Free time in the city of Cargese
Description
Cargèse is a charming village located on the western side of the island. Although it has a bit more than 1,000 inhabitants, the seaside town has quite a rich history behind it. The arrival of a colony of Greek refugees in the 17th century created tensions and conflicts for over 300, but the colonists left behind strong traditions. One of the best ways to get a true feel for this village is to stroll down its streets, pop into a few boutiques, and sip a drink at an outside table.
PLEASE NOTE
The order of the visits can change.
Times are approximate.