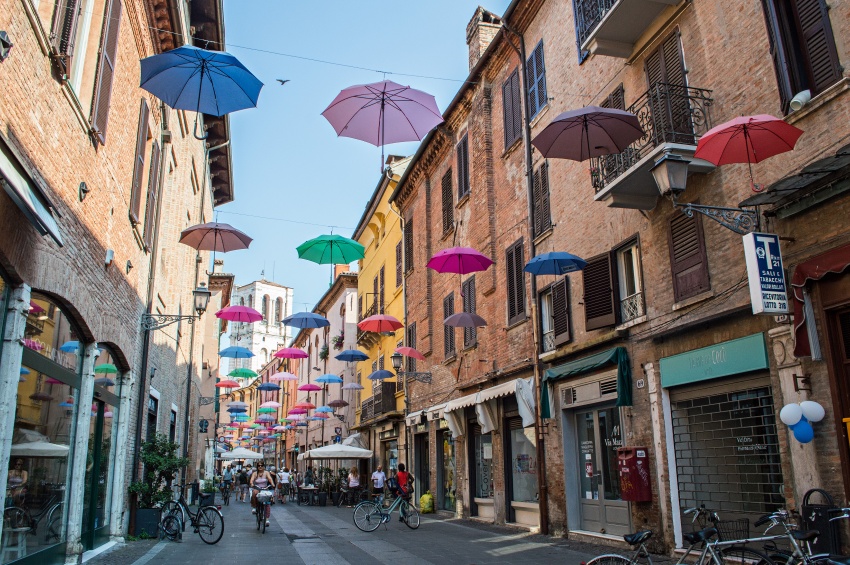 © CroisiEurope
# Trip
Guided tour of Ferrara
Description
Departure by coach from Polesella with your guide for Ferrara, which is about 5 km from the Po river in the eastern part of the Italian plain.
Ferrara is famous for being the seat of the archbishopric and its small university. The town was also the residence of the Este dynasty as well as a flourishing trading town. You can still appreciate the city's past glory by its wide streets and impressive Renaissance palaces.
Our tour will take you through the town's medieval streets. You will visit the old Jewish ghetto, the Cathedral with its stunning Romanesque facade and the Castello Estense (exterior only), built during the Renaissance and whose four towers dominate the town center. Return to the coach for a panoramic tour which will allow you to admire the Palazzo dei Diamanti, the Piazza Ariostea and the Palazzo Schifanoia (exterior only).
Then, enjoy some free time before returning to the boat at Polesella.
Duration : approx. 4:00
Comfortable shoes are recommended.
Please dress appropriately for the visit of the cathedral.
The order of visits can change.
Times are approximate.
These excursions are not proposed for all the cruises and depend on the itinerary.
If the minimum of 25 participants is not reached, the excursion may be either cancelled or proposed at another rate, depending on the number of participants (to be paid for on board).
The excursions on the first evening and the morning following boarding are only guaranteed for the passengers who have booked the excursion before the cruise.
Cruises
This shore excursion is available for one or several cruises
Show more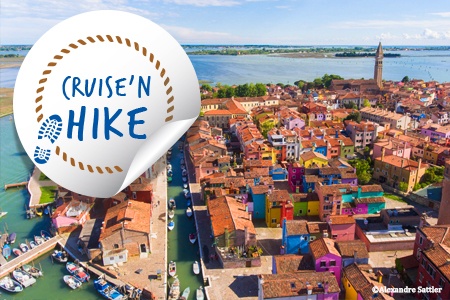 © Alexandre Sattler
Next departures:
10/11/2019
VENICE - CHIOGGIA (or nearby) - TAGLIO DI PO - POLESELLA - TAGLIO DI PO - CHIOGGIA (or nearby) - VENICE
Discover the hidden gems of Northern Italy: romantic Venice, the natural Venetian Lagoon, and medieval villages. Set off to explore the mysterious wonders of the Pô Delta and its exceptional environment—where silence is golden. This cruise combines nature and culture for an unforgettably original experience as you visit all the legendary sites. Whether on board or on foot, you'll fall in love with dazzling Venice.
START IN
2019
* Price based on double occupancy
Show more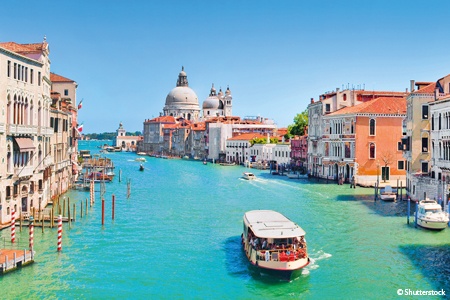 © Shutterstock
Next departures:
09/01/2019, 09/11/2019, ...
VENICE - Burano and Murano - VENICE - CHIOGGIA (or surroundings) - TAGLIO DI PÔ - POLESELLA - TAGLIO DI PÔ - CHIOGGIA (or surroundings) - VENICE
The birth place of the Renaissance, discover the region of Veneto and all the treasures it has to offer. Visit Venice, its famous square San Marco and its Doge's Palace, and discover unique towns such as Padua, Bologna and Ferrara, a medieval citadel.
START IN
2019
* Price based on double occupancy