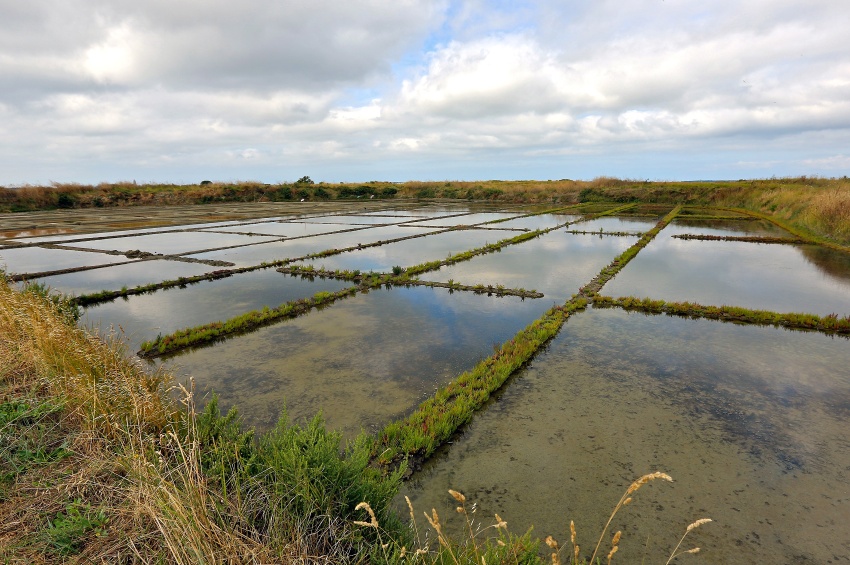 © Haubtmann
# Trip
Guided tour of Guérande and its salt marshes
Description
Leave for Guérande, where we'll begin with a guided tour. A fortified medieval city, Guérande overlooks the salt marshes and is entirely enclosed by ramparts. It is one of the rare cities in France to have been able to conserve the entirety of its ramparts (4,704 feet around). Famous writers such as Flaubert, Gracq and Balzac used Guérande as backdrops to their novels, after falling in love when visiting.
The tour will continue to the salt marshes, the undeniable symbol of the region. With our guide, you'll discover the process of harvesting Guérande salt and how the marshes work. Discovering the salt marshes is a great way to develop a global vision of traditional methods of work.
Duration: approx. 4:00
The order of the visits can change.
Times are approximate.
These excursions are not proposed for all the cruises and depend on the itinerary.
If the minimum of 25 participants is not reached, the excursion may be either cancelled or proposed at another rate, depending on the number of participants (to be paid for on board).
The excursions on the first evening and the morning following boarding are only guaranteed for the passengers who have booked the excursion before the cruise.
Cruises
This shore excursion is available for one or several cruises
Show more
© Shutterstock
Next departures:
10/04/2020
NANTES - SAINT-NAZAIRE - ANCENIS - Angers - The Châteaux of the Loire Valley - Saumur - BOUCHEMAINE(2) - ANCENIS - NANTES
Go on a splendid journey discovering the treasures of the Loire. Visit Nantes and its historical jewels, Guérande protected by its strong ramparts, quoted to be the Dukes of Brittany's favorite and famous for its medieval monuments as well as for its salt marshes, and the Escal'Atlantic of Saint-Nazaire. You will also discover the impressive Cadre Noir at Saumur well known for it master class equestrian skills, as well as the Angevine cliffs rising up to over a hundred meters and offering you an impregnable panorama over the Loire valley.
START IN
2020
* Price based on double occupancy