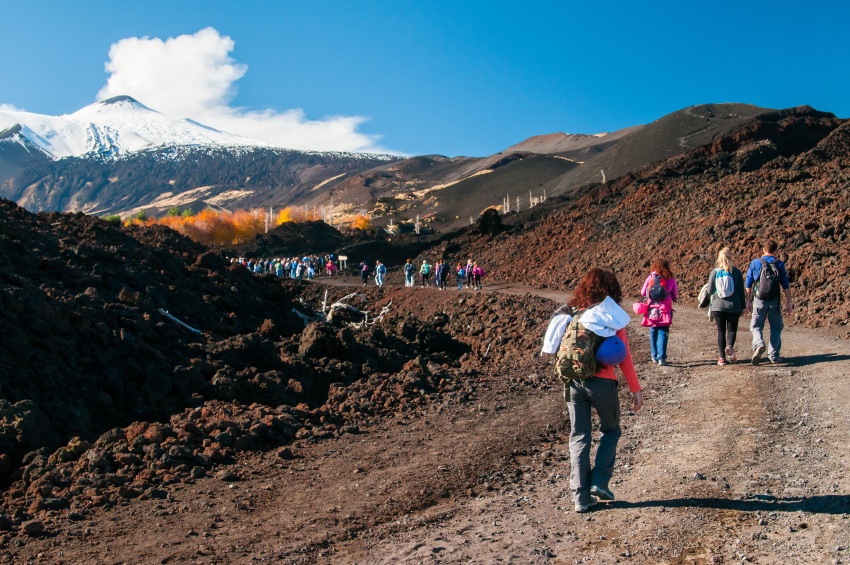 © Marco Ossino
# Trip
Mount Etna and Taormina
Description
Mount Etna Volcano is one of the world's most active volcanoes and has been erupting for over several million years. The ascent of Etna is the highlight of a visit to Sicily, not only for the volcanic activity but also for the superb views. We'll leave for Mount Etna by coach and enjoy the twisting, turning, panoramic route as we cross through small villages on the way. When we reach 7.000 ft., we'll take a walk together to visit the "Silvestri" craters and enjoy the desert moon atmosphere.
We'll have lunch and then travel to Taormina.
Idyllically perched on a rock high above the sea, Taormina incarnates the legendary beauty of Sicily. It was here that a D.H. Lawrence was inspired to write Lady Chatterly's Lover. Taormina has endlessly winding medieval streets and tiny passages, each with its own secret: great restaurants, cafés and ice cream bars. Taormina's history began with the Greeks, who founded and named the town in 358 BC. Throughout the centuries, a variety of civilizations including the Romans, Byzantines, Arabs, French and Spanish seized the city for its strategic position overlooking the sea and valley. Nowadays, visitors can still find fine examples of Taormina's golden times: the 13th century Cathedral of Saint Nicolò, the 16th century Palace of the Dukes of Saint Stefano, the "Badia Vecchia" (Ancient Abbey) and many other sites. The highlight of this visit will no doubt be the tour of the amphitheater built in the third century BC by the Greeks and later expanded by the Romans. The world-famous view of Mount Etna and the sea beyond the theatre is breathtaking. The theatre is still the site of performances during summer. Enjoy some free time on the famous Corso Umberto before returning to the ship in Messina.
PLEASE NOTE
The order of the visits can change.
Times are approximate.
Good walking shoes are recommended.
The visit of the crater is done entirely on foot. You must be able to walk 1 hour and 15 minutes on broken ground.
We recommend bringing a windbreaker or light jacket since the weather can be windy and chilly on the volcano.
Active excursion requiring effort.This excursion is not recommended for persons with reduced mobility.
Cruises
This shore excursion is available for one or several cruises