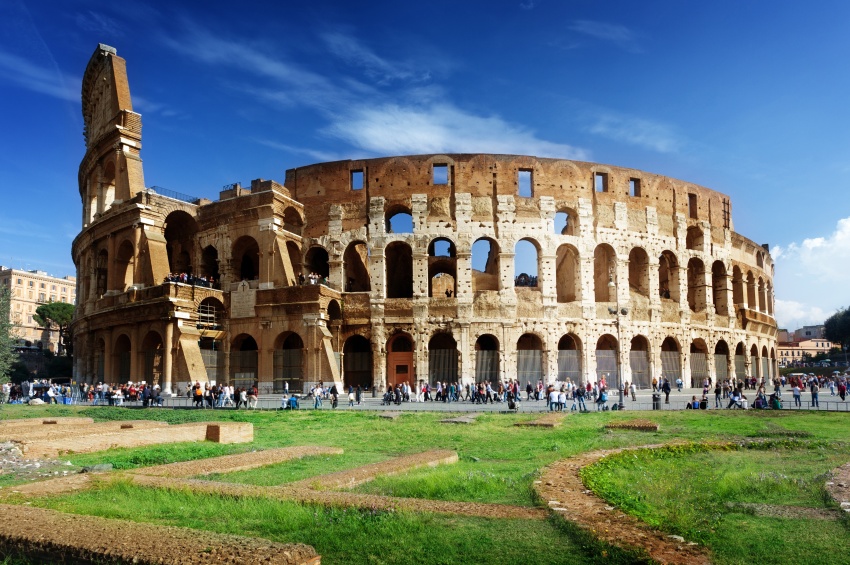 © 123 RF
# Trip
Rome (full-day excursion - lunch included)
Description
We'll leave from Civitavecchia with a local tour guide for the exciting Italian capital: Rome. We'll begin our visit with a panoramic tour of the "Eternal City" and a presentation of the main monuments. You'll see iconic sites such as the Aurelian Walls, Pyramid of Cestius, Baths of Caracalla, Circus Maximus, Palatine Hill, Bocca della Verità, Theatre of Marcellus, Piazza Venezia, and the Roman Forum. And we'll see the splendid exteriors of the Colosseum, the largest amphitheater ever built. Commissioned in 72 AD by Emperor Vespasian, the amazing structure was completed by his son, Titus, in 80 AD. Our guided tour on foot will begin at the Traforo Umberto I. You'll discover the grandiose Trevi Fountain, the largest Baroque fountain in the city and the most beautiful in the world. A few streets away, we'll come across the Via del Corso and Piazza Colonna, the stylish square that is Rome's political nerve center. We'll then see the imposing former Roman temple, the Pantheon, now a church. Our last stop before returning to the coach will be the legendary Piazza Navona.
After lunch, we'll walk to Vatican City to admire St. Peter's Square and Basilica, regarded as one of the greatest buildings of its age. We'll visit the Basilica itself, the world's largest church and the center of the Catholic faith. The original structure was built by Constantine in 324 and rebuilt by Renaissance masters such as Bramante, Michelangelo and Bernini in the 16th century. Inside, we'll be able to admire the Pietà, Michelangelo's magnificent sculpture depicting the body of Jesus on the lap of his mother after the Crucifixion, as well as the baldachin created by Gian Lorenzo Bernini.
After our tour, we'll return to the ship in Civitavecchia by coach.
PLEASE NOTE
The order of the visits can change.
Times are approximate.
Good walking shoes are recommended.
The Basilica can be closed at any moment for security reasons, religious celebrations or official visits. If this happens, the guide will give the tour outside of the Basilica.
For your well-being, wear practical and comfortable clothing.
Please dress modestly when visiting any religious building in Italy (long pants for men, legs and shoulders covered for women). Large bags are not allowed.
The tour inside the Basilica will be transmitted through headsets (mandatory and included in the cost).
Cruises
This shore excursion is available for one or several cruises