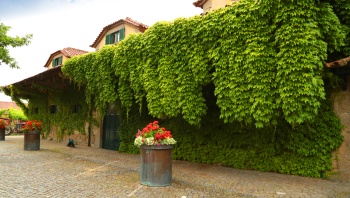 © Nataliya-Pylayeva
# Trip
FULL-DAY EXCURSION TO PENAFIEL AND THE QUINTA DA AVELEDA
Description
We'll leave by coach for the fortified town of Penafiel. The Penafiel Municipal Museum, located in the heart of the city's historical district, houses permanent exhibits dedicated to the region's cultural identity, land, archeology, and crafts. We'll then head over to the Quinta da Aveleda, a beautiful wine estate with lush gardens, fountains, and stone decorations that give it a unique, enchanting atmosphere. Enjoy some free time on your own strolling the gardens and estate before we enjoy a tasting of the local Vinho Verde.* We'll have lunch in this idyllic setting and take advantage of a bit more free time to explore the estate.
PLEASE NOTE
The order of the visits can change.
Times are approximate.