# The ship
MS Gil Eanes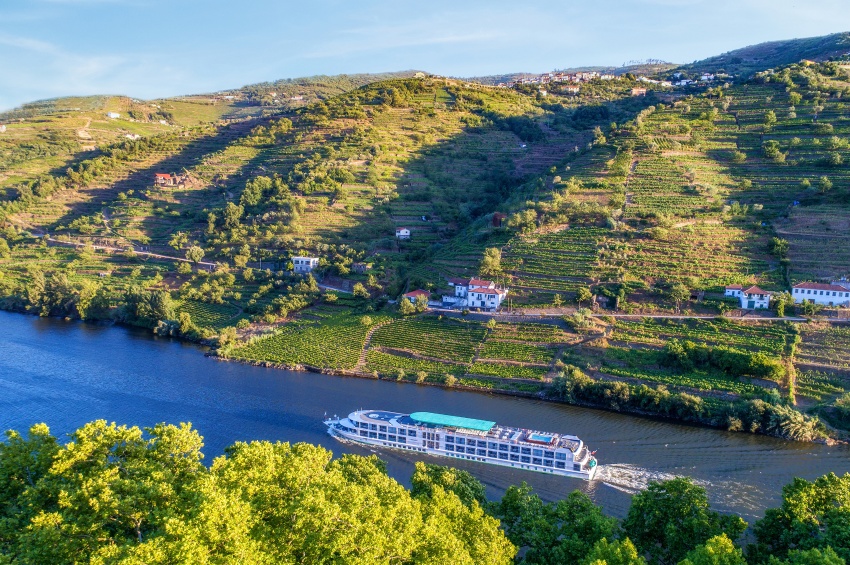 Named after the famous Portuguese navigator, Gil Eanes is a Premium three-deck ship specially designed for the river Douro in Portugal. Launched in 2015, this elegant-designed ship with a bright, modern feel has ample space throughout for passenger comfort with splendid panoramic windows. Its elegant taupe, bronze, and white interior tones combine perfectly with the blue shades and these conjure up the Portuguese tile designs and colours.
The upper and middle deck cabins have French balconies. These decks share four suites. Two suites on the upper deck come with sun loungers. The large windows on the main deck provide great views from the privacy of your cabin. All meals during the cruise are served in the cozy dining room on the main deck. All onboard fun,
music, and dancing happen in the lounge and bar on the middle deck bow. An outdoor area is found near the bow. The sun deck has a pool for cooling off and sun
loungers to relax while catching some rays.
RECEPTION DESK
Perfect place to meet with friends before excursions or to ask any information you may need to the staff. The Gift Shop is also located here, you'll find a wide assortment of souvenirs, CroisiEurope products and post cards.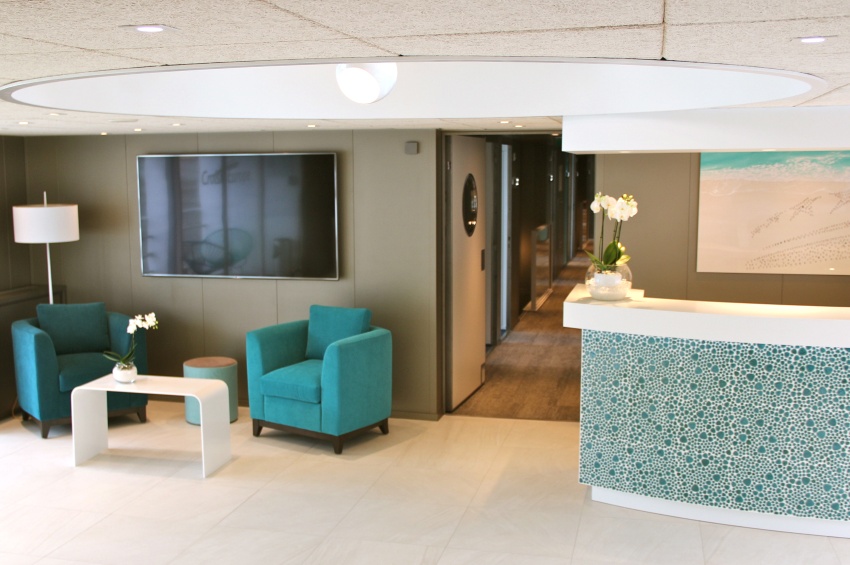 © Denis Merck
LOUNGE BAR WITH DANCEFLOOR
The lounge tastefully decorated, is located at the front of the ship and offers panoramic views. Cocktails and games, dancing, and other forms of entertainment all happen here.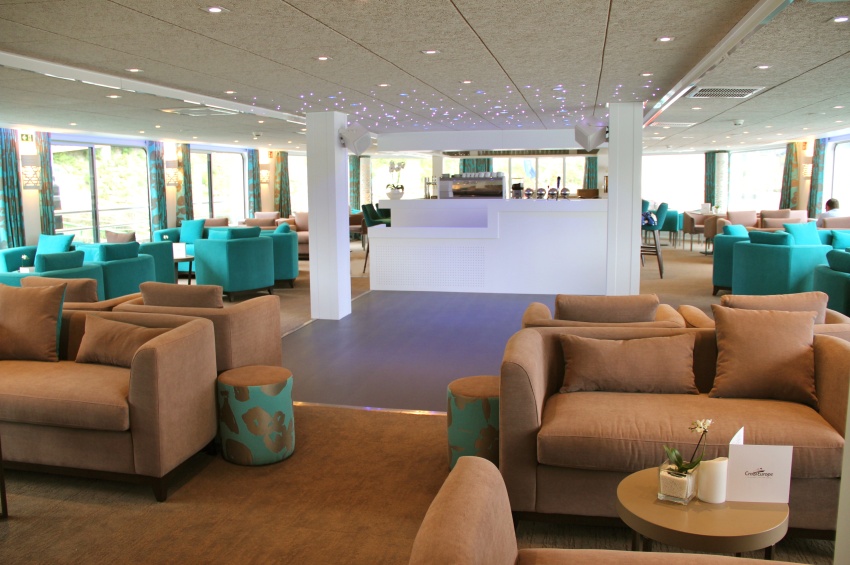 © Giorgetti
FITNESS
Start your day by joining us for a morning fitness class on the sun deck.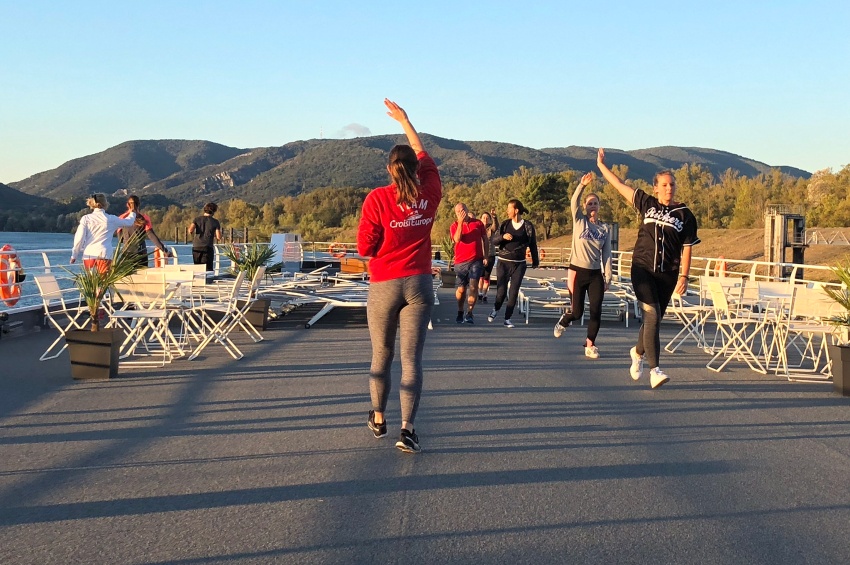 SUN DECK
Take advantage of the sun deck to relax! It is equipped with chairs and deckchairs, allowing you to cool off while enjoying a panoramic view of the magnificent landscapes.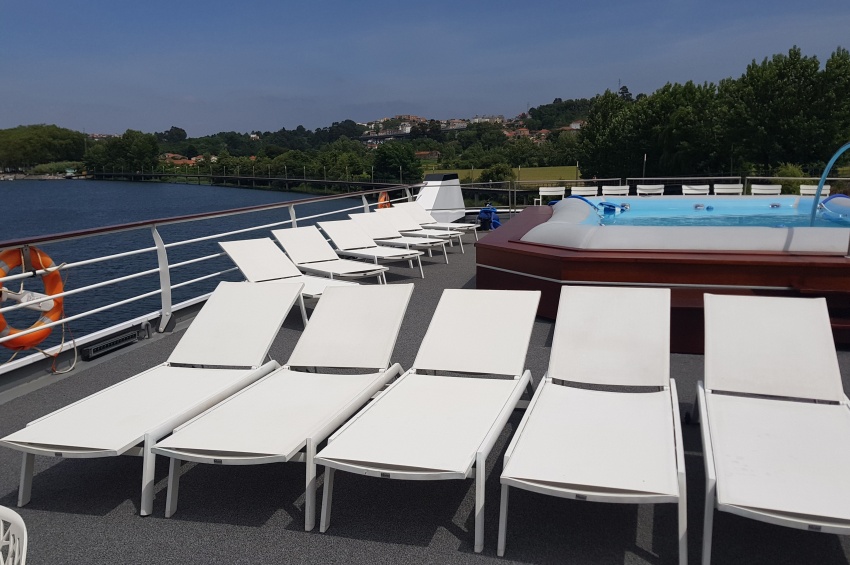 Decks
Deck plans & technical details

© CroisiEurope

© CroisiEurope

© CroisiEurope

© CroisiEurope
Length

:

80

meters

Numbers of passengers

:

132

Width

:

Casual

meters

Type

:

FLUVIAL

Year of construction

:

2015

Size of the crew

:

25

Number of cabins

:

66

cabins
UPPER DECK
34 Cabins
with French balcony, sliding windows
Cat. A :

18 double cabins
2 suites

Cat. B : 14 double cabins
MIDDLE DECK
24 Cabins
with French balcony, sliding windows
Cat. A : 12 double cabins
Cat. B :

5 double cabins
2 suites
1 PRM cabin

Cat. C : 4 double cabins
MAIN DECK
8 Cabins
with windows
Cat. A : 2 double cabins
Cat. B : 4 double cabins
Cat. C : 2 double cabins
Cruises
This ship is sailing multiple itineraries