# Description
Cruise
LUXOR - EDFOU - KOM OMBO - ASWAN - ESNA - LUXOR
The cradle of all civilizations—ancient Egypt—has fascinated humankind forever. Since the dawn of time, explorers, diplomats, writers, and painters have used the fertile banks of the Nile as inspiration for their work. Even today, we still seek the answers to the mysteries found within the pharaohs' tombs. Over two thousand years of history are waiting for you on a cruise that promises exciting, spectacular, and unforgettable discoveries. Majestic temples, tombs, pyramids, and lively villages dot the Nile Valley landscapes from Luxor to Aswan. Wind down from your everyday grind and step way back in time on a cruise through Upper Egypt.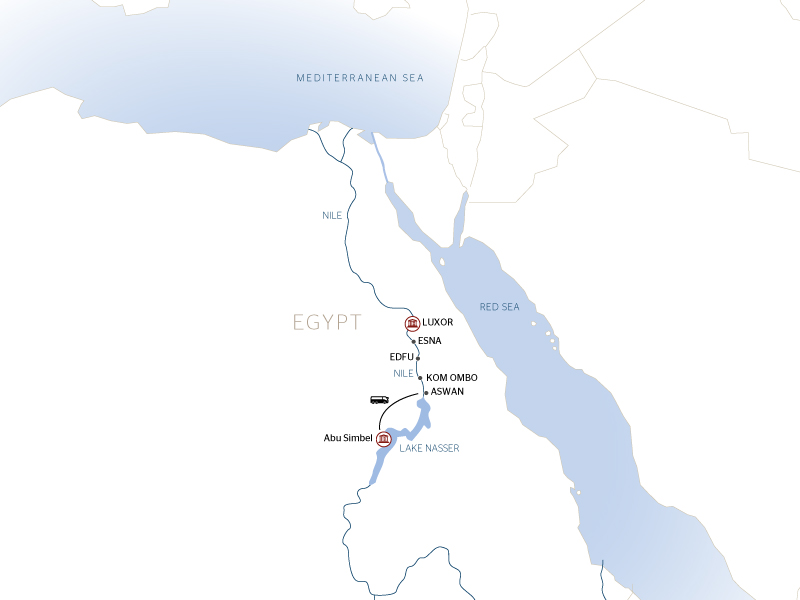 THE CROISIEUROPE DIFFERENCE
All meals included - DRINKS INCLUDED with meals
Refined local cuisine
Headsets are included for excursions
Official welcome from the captain and crew
Tour leader or cruise director on board
Onboard activities and/or lectures
Travel assistance and repatriation insurance
All port fees included
CRUISE HIGHLIGHTS
Visit the most beautiful sites in Upper Egypt: The Karnak Temple Complex, Luxor, Edfu, the Philae Temple Complex, and Kom Ombo
Local boat tour around the island of Elephantine
English teatime in a unique setting—taking you back to the golden age of the Nile
THE MUSTS:

The Valley of the Kings and four of its tombs, including Seti I
The magnificent Philae Temple Complex
Sound and Light Show at the Karnak Temple(3)
START IN
2023
* Price based on double occupancy
Ships
Several ships available for this cruise
For French, Swiss, and Belgian nationals: Passport that is valid for 6 months after your date of return, with at least three side-by-side pages free of any markings and mandatory Egyptian visa.
Egyptian visa information: You must apply for your Egyptian e-visa before you arrive in the country. You can do this yourself directly through the government website: https://visa2egypt.gov.eg/eVisa/
For other nationalities: Please consult the competent authorities (consulate/embassy) before your trip.
---
PRECAUTIONS
Vaccines are not mandatory for this trip. It is nevertheless advisable to be up to date with the following vaccinations: tetanus, polio, hepatitis A and B, diphtheria and typhoid fever. The use of mosquito repellent is highly recommended.
CURRENCY EXCHANGE
The official currency in Egypt is the Egyptian pound (symbolized as E£).
For the current exchange rates, please consult websites such as www.xe.com or www.onada.com/currency/converter.
There are ample bank machines available, and they accept credit or debit cards to withdraw cash. We recommend not using credit or debit cards in the bazaars.
WEATHER
The climates vary from region to region. Cairo and its surroundings are considered semi-arid, while the south is a desert climate.
Spring is brief in Egypt, and summer arrives quickly between March and May. Temperatures can change swiftly between 68° and 95° F (20° and 35° C) over a full day.
From the end of September to the end of November, temperatures vary between 77° and 95° F (25° to 35° C) from the north to the south of the country, with the sun still shining brightly.
In the winter months—from December to the end of February— we recommend a warm coat for Cairo, although Luxor and Aswan usually remain balmy.
TIME DIFFERENCE:
You can consult www.worldtimezone.com to see the time difference between your home and your destination.
---
These cruises and tours are not recommended for persons with reduced mobility. There are no elevators on the ship, and many tours and visits are done on foot.
The ship is not a part of the CroisiEurope fleet.
(1) The Egyptian government can decide to close the roads to the Abu Simbel site at any time. Departure for the Abu Simbel excursion takes place very early in the morning. You must reserve this excursion before you leave for your cruise.
(2) The balloon ride will be at either sunrise or sunset, depending on the weather. Reservations can only be made on board.
(3) The sound and light show is in English. You must reserve this excursion before you leave for your cruise.
ADDITIONAL INFORMATION :
For the safety of our passengers, the captain and crew of the boat may decide to modify the navigational itinerary.
The excursions may be modified or reversed for technical requirements or in case of cultural events… Please note that Egyptian authorities can unexpectedly close certain sites or museums. If this occurs, we will propose an alternative.
The excursions will take place by either air-conditioned coaches or small local boats.
The excursions are guided by an English-speaking Egyptologist. Passengers are equipped with audio guides for more comfort during the visits.
Certain places we will visit have very high levels of security. We cannot be held liable for any unforeseen closings, but we will commit to doing our best to ensure comparable substitute excursions.
Frequent traffic jams in Luxor and Cairo caused by intense traffic or religious events can disturb the sequence of certain excursions.
If necessary, the itinerary, stopovers or visits may be modified by the cruise company or our local representatives
There is no heating on board.
In Egypt, it is customary to cover your shoulders, head and knees while visiting religious sites.
*Alcohol can be dangerous to your health. Please drink in moderation.