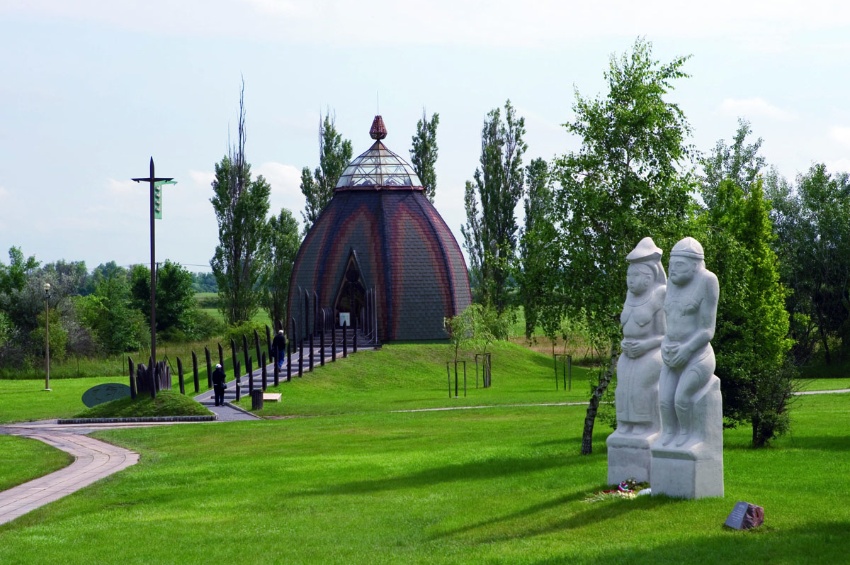 © Frantisek Zvardon
# Trip
Full day in the Puszta (lunch included)
Description
Departure by coach in the company of your guides to Lajosmisze and the Puszta.
Riding aboard a charabanc - a traditional horse-drawn carriage with wooden benches - you'll be amazed by the wonderful landscapes and unusual fauna of the Puszta. In a small part of the Hungarian Steppe, you'll get to observe Racka sheep with their spiral-shaped horns, Mangalica pigs with their curly coats and Hungarian Grey cattle with their long, curved horns, as well as rare species of birds. In the course of your visit, you'll get the chance to attend a traditional horse show while tasting* "palinka" (plum eau-de-vie) and some "pogacsa" (small savory buns) as well as mineral water, sheltered from the sun under a thatched roof. The csikós, the mounted horse-herdsmen of Hungary dressed in traditional blue attire, will invite you to take part in their "games of skill and ability".
For lunch, you'll be able to taste local specialties served in a "czardas" (a traditional tavern) surrounded by Hungarian musicians.
Afterwards, you'll set out for a visit of Kecskemét on foot. Located in the central part of Hungary, the city shelters various Fine Arts institutes. Several of its buildings have given the city its fame. You'll be able to admire the Cifrapalota - a palace in Rococo style ornate with colorful patterns and flowers - that is today home to the Kecskemét Art Gallery, as well as the impressive City Hall, the former Synagogue that was turned into an office building by the Soviets, and more.
Return on board by coach.
PLEASE NOTE
Lunch in a typical restaurant is included (drinks are not included).
Good walking shoes, sunglasses, a cap and a bottle of water are recommended.
The visit of Kecskemét is on foot.
*Alcohol can be harmful to your health. Please drink in moderation.
The order of the visits can change.
Times are approximate.