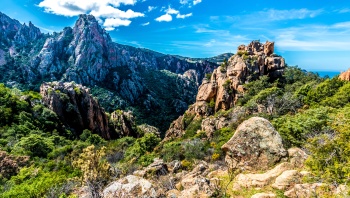 © Shutterstock
# Trip
Day trip to the Calanques de Piana and Porto
Description
Join us for an amazing full-day excursion to the red rocks and gorgeous waters at the Calanques de Piana. The sheer heights of the cliffs and beautiful, time-sculpted stone are just many of the wonderful sights within this UNESCO World Heritage Site. Our tour includes the small, remote port town of Porto. We'll jump on a local boat that will take us to Cap Rosso, where we'll get a closer look at the seaside escarpments and caves lining the gulf coast. We'll return to Ajaccio by coach.
PLEASE NOTE
The order of the visits can change.
Times are approximate.