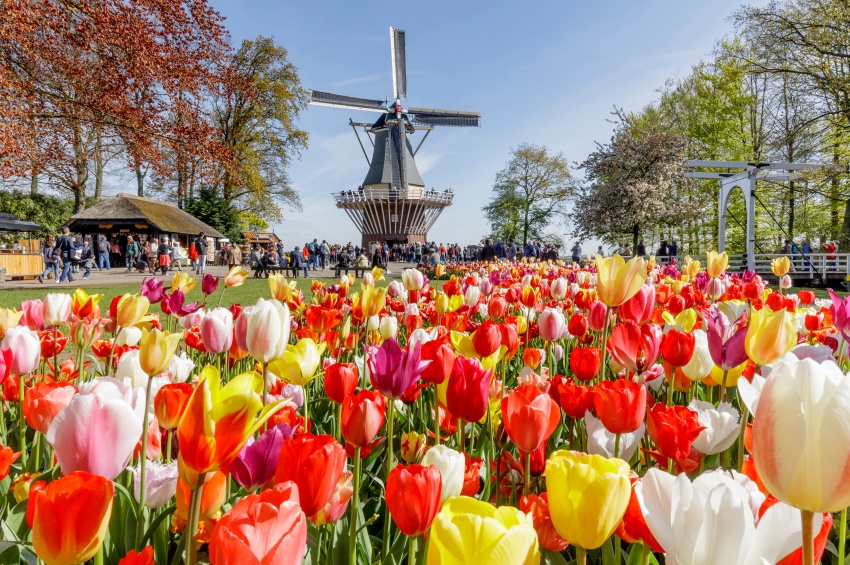 © Laurens Lindhout
# Trip
Excursion to the Keukenhof Gardens
Description
Departure by coach in the company of your hostess towards Keukenhof. Upon arrival, your hostess will give you an entry ticket that will allow you to stroll freely inside this beautiful flower garden extending on 32 hectares (79 acres). You'll be delighted by its wonders, from the enchanting colors and fragrances of the many tulips, narcissus, daffodils and other ornamental bulbs to the orchid pavilion and the Japanese country garden. Do not miss the breathtaking view over the tulip fields from the 1892 windmill located at the back of the garden!
In the 15th century, the garden as we know it today was nothing but hunting grounds where aromatic herbs were grown for the kitchens of the castle belonging to Jacqueline, Countess of Hainaut, hence its current name, "Keukenhof" - "kitchen garden" in English.
Return on board in Amsterdam by coach.
Duration : approx. 4:00
Good walking shoes are recommended.
Free visit in the park; open from March 22nd to May 13th 2018.
The order of the visits can change.
Times are approximate.
These excursions are not proposed for all the cruises and depend on the itinerary.
If the minimum of 25 participants is not reached, the excursion may be either cancelled or proposed at another rate, depending on the number of participants (to be paid for on board).
The excursions on the first evening and the morning following boarding are only guaranteed for the passengers who have booked the excursion before the cruise.
Cruises
This shore excursion is available for one or several cruises