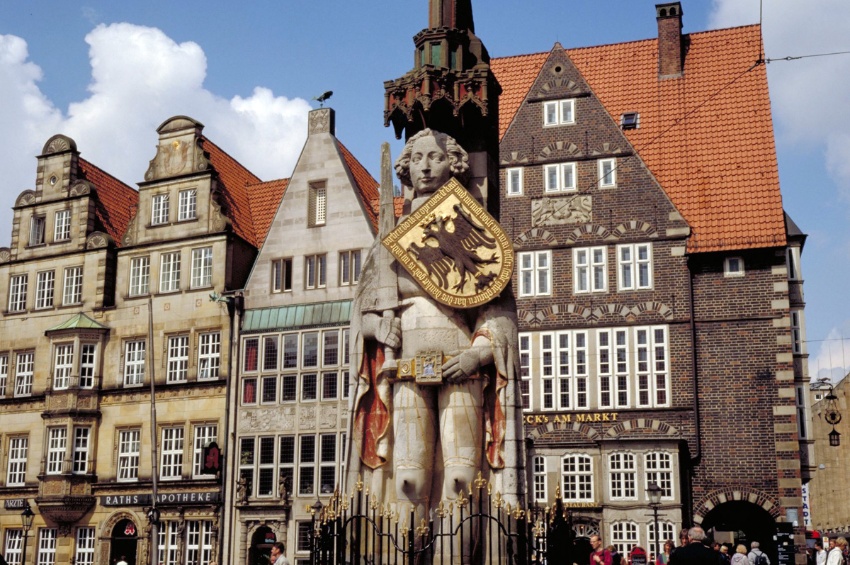 © German National Tourist Board
# Trip
Guided tour of Bremen
Description
Departure from the boat on foot in the company of your guide to visit the historic center of this Hanseatic city.
One of the oldest German maritime cities, Bremen was granted the right to hold market as early as 965 and joined the Hanseatic League in 1358. It became a Free Imperial City in 1646 and established a direct commercial relationship with the USA in 1783. Traditionally, the city is known for its cotton and coffee trade and forms, together with its Bremerhaven fore-port, an incredibly unified Land.
Our visit will start with the working-class district of Schnoor, located on the banks of the Weser River. This is the oldest district in Bremen and its narrow streets filled with small half-timbered houses and a big Church form a charming ensemble. The neighborhood owes its name to old handicrafts associated with shipping, and the alleys between the houses were often associated with occupations or objects. There was an area in which ropes and cables were produced, giving the district its name (string = Schnoor).
We'll continue towards Marktplatz where you'll get to see St Peter's Cathedral and the wonderful City Hall in Weser Renaissance style. Also standing on Marktplatz is the 1404 statue of Roland, protector of the city, the oldest in Germany. Bremen is also famous for another statue located right behind the City Hall - the Town Musicians of Bremen. The statue depicts a donkey, a dog, a cat and a rooster with respect to the Brothers Grimm's fairy tale. Don't forget to make a wish!
Our visit ends after a walk down the Böttcherstrasse, a street famous for its unusual architectural ensemble belonging to a variant of the expressionist style. We'll pass the entrance gate with its impressive golden fresco depicting the Lichtbringer, Bringer of Light.
Free time and return on board on foot.
Duration : approx. 2:00
Good walking shoes are recommended.
After the visit passengers have free time and get back to the boat at their own pace (depending on navigation schedules).
The order of the visits can change.
Times are approximate.
These excursions are not proposed for all the cruises and depend on the itinerary.
If the minimum of 25 participants is not reached, the excursion may be either cancelled or proposed at another rate, depending on the number of participants (to be paid for on board).
The excursions on the first evening and the morning following boarding are only guaranteed for the passengers who have booked the excursion before the cruise.

Cruises
This shore excursion is available for one or several cruises