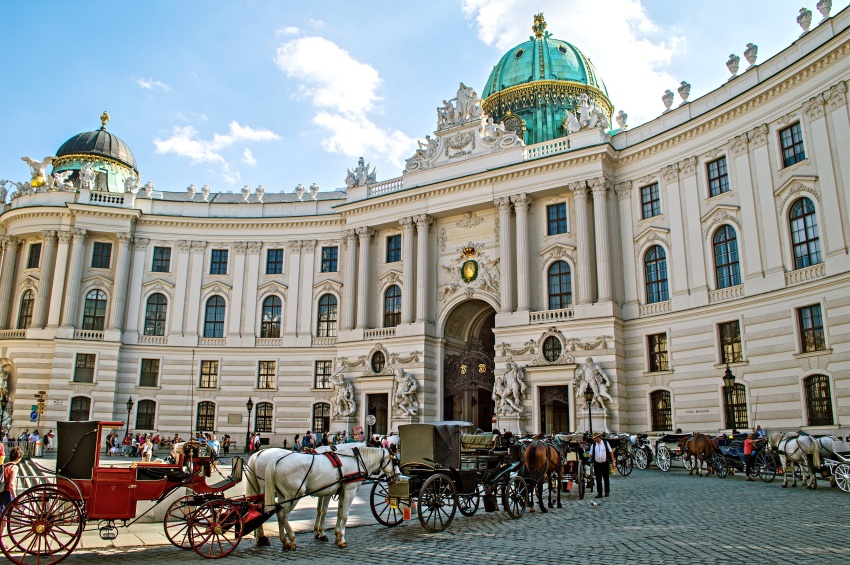 © CroisiEurope
# Trip
Guided tour of the Hofburg, Residency of the Habsburgs and Sisi museum
Description
Departure by coach with your local guide. You will discover the Hofburg, which is also known for having been during 600 years the "Winter Residency" of the Habsburgs. Over the course of their reign, they turned this small 13th century fortress into a colossal and beautiful palace. The different buildings today mostly house museums and the gardens, dotted with monuments, have become the Volksgarten and the Burggarten.
We will climb up the Emperor's Staircase to reach the Sisi Museum which extends over six rooms that have been equipped to solely center on Elisabeth's private life. Here numerous personal items that once belonged to Elisabeth are used to help illustrate the true personality of the frequently misunderstood Empress. The sensitively designed exhibits are inspired by the monarch's poetry and illustrate how the once light-hearted young girl, Sisi, became a restless, unapproachable and melancholic woman. The more than 300 items on display in the museum include parasols, boxes and gloves which once belonged to Elisabeth, along with a reconstruction of the evening dress worn by 16 year old Sisi in 1854 before she left her home in Munich, and a replica of a section of her imperial railway carriage.
We'll then move on to Imperial Apartments and access the 19 official and private rooms that once belonged to Franz Joseph and Elisabeth. The Imperial Apartments are a reflection of the monarchic splendor. You will get to see the Emperor's Audience Chamber, his Conference Room, and his bedroom before peering through Elizabeth's apartments with her salons, lavatory and bathroom and her dressing and exercise room where Elizabeth spent most of her time.
Return to the boat.
Duration : approx. 3:00
Before arriving to the Hofburg, a 5 minute walk is necessary.
There are stairs to access the Hofburg.
The order of the visits can change.
Times are approximate.
These excursions are not proposed for all the cruises and depend on the itinerary.
If the minimum of 25 participants is not reached, the excursion may be either cancelled or proposed at another rate, depending on the number of participants (to be paid for on board).
The excursions on the first evening and the morning following boarding are only guaranteed for the passengers who have booked the excursion before the cruise.
Cruises
This shore excursion is available for one or several cruises