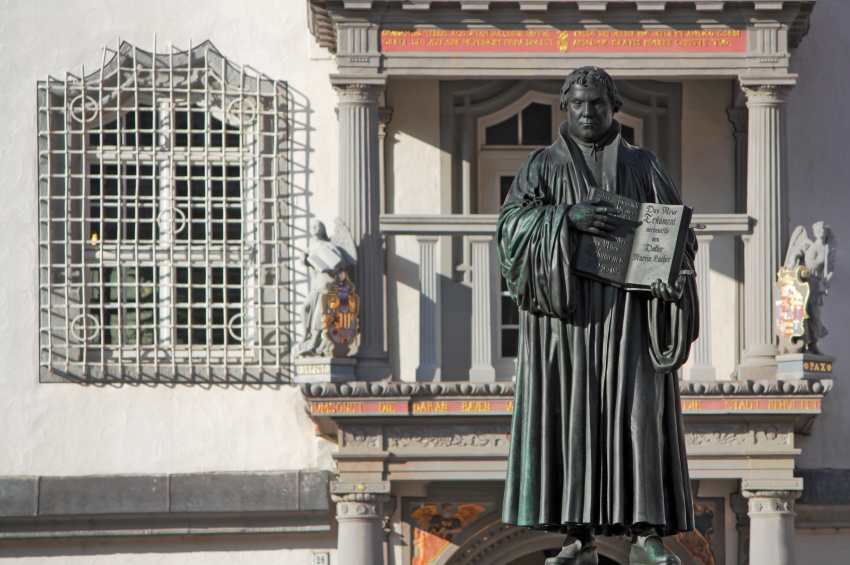 © Artono9
# Trip
Guided tour of Lutherstadt Wittenberg
Description
We'll leave from our ship for a guided tour of Lutherstadt Wittenberg. Lutherstadt Wittenberg is the home town of Dr. Martin Luther, the Great Reformer, and the city is affectionately known as the "Cradle of the Reformation". You'll discover the city center and its noble Renaissance-style houses. Everywhere you turn, there's a spot associated with Martin Luther's life, and various sites throughout the city were added to the UNESCO world heritage list in 1996. A stream runs along the main street, partially underground. Half way along, the street opens out into an attractive square, or Markt, with a statue of Luther and Philip Melanchthon, his collaborator.
The Castle Church is the famous church where he nailed his 95 Theses to the door. Luther gave some of his sermons in this church and now is buried just under the pulpit. The church was severely damaged twice during wars in the centuries following the Reformation, but it was rebuilt each time. We'll also visit Luther's house. Part of the Augustinian monastery in which Luther lived, first as a monk and later as owner with his wife and family, is preserved and considered to be the world's premier museum dedicated to Luther, including a permanent exhibition about the time of the Reformation. At the end of the afternoon, we'll return to the ship by coach.
Duration : approx. 4:00
Wear comfortable, sturdy walking shoes.
During the excursion, our boat will cruise to Elster.
The order of the visits can change.
Times are approximate.
These excursions are not proposed for all the cruises and depend on the itinerary.
The excursions on the first evening and the morning following boarding are only guaranteed for the passengers who have booked the excursion before the cruise.
If the minimum of 25 participants is not reached, the excursion may be either cancelled or proposed at another rate, depending on the number of participants (to be paid for on board).
 
Cruises
This shore excursion is available for one or several cruises