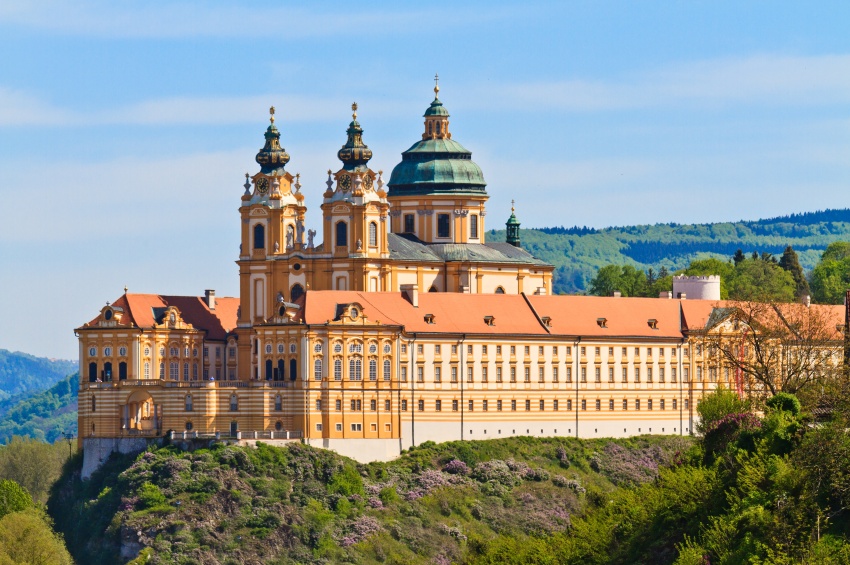 © Zechal
# Trip
Guided tour of the Melk Abbey
Description
Departure by coach in company of your host/hostess towards Melk Abbey. We will meet up with our guides in the inner courtyard to start our visit. The Abbey overlooking the Danube was first built as the Babenberg's fortified castle. It was founded in the 11th century and the current buildings of the Benedictine abbey date from the Baroque era and were designed by architect Jakob Prandtauer.
Melk Abbey now houses a museum in which you'll discover several rooms that have been enhanced thanks to architecture, sound and light as well as the use of various types of media. Computer animations will tell you a story about the construction of the edifices. You will also visit the marble hall, the world famous library and the bedchambers where a number of illustrious visitors have slept. Return on board by coach.
Duration : approx. 1:45
Good walking shoes are recommended: from the parking lot to the entrance of the Abbey there are stairs and a 500m cobblestone path.
Depending on the cruise the visit can be in the morning or in the afternoon.
Please dress appropriately.
The order of the visits can change.
Times are approximate.
Depending on navigation schedules passengers could have free time.
These excursions are not proposed for all the cruises and depend on the itinerary.
If the minimum of 25 participants is not reached, the excursion may be either cancelled or proposed at another rate, depending on the number of participants (to be paid for on board).
The excursions on the first evening and the morning following boarding are only guaranteed for the passengers who have booked the excursion before the cruise.
Languages: FR-EN-DE.
Cruises
This shore excursion is available for one or several cruises