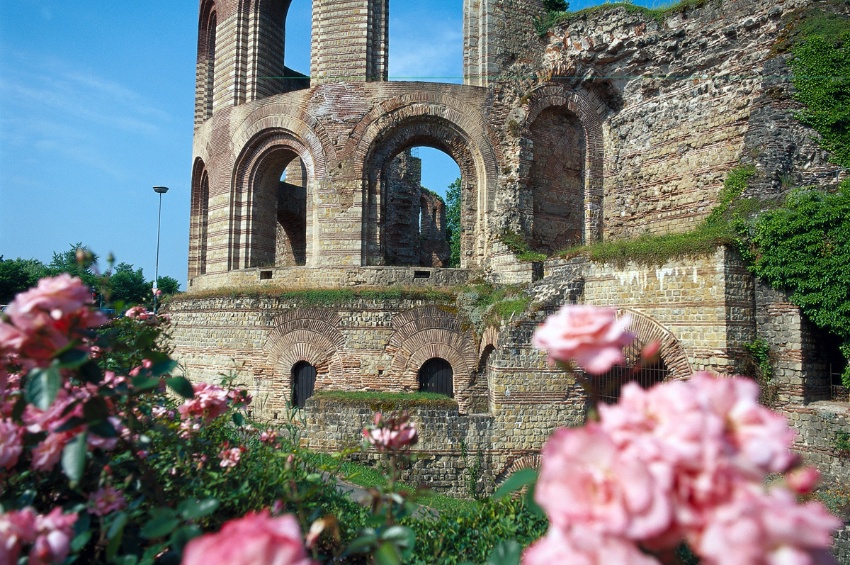 © ONAT Allemagne
# Trip
Guided tour of Trier
Description
Departure from the boat for a panoramic coach tour of the city of Trier. Discover the Roman cultural heritage of Trier with a splendid view over the Moselle and its magnificent countryside. Trier is the oldest of German cities, founded so long ago that it is 13 years older than Rome. And Trier's age is not its only claim to glory. It is known above all for having been one of the seats of power of the Holy Roman Empire, one of the great centers of Early Christianity as well as a dynamic medieval town. Of these three periods, the city has retained some precious architectural marks. The tour continues on foot. We'll discover (exteriors ony) the Amphitheater, the tenth biggest in all of the Roman Empire which could hold up to 30,000 spectators. We'll move on to the Imperial Baths which were sumptuously arranged inside: marble on the walls, floors, mosaics, frescoes on the walls, statues. The thermae buildings form a rectangle 140m x 250 m. Continuation to the Basilica of Constantine. Since its construction in about 310, the basilica has never been out of use. From the very start, the edifice was an imposing one - 67 m long, 27 m wide and 30 m high. Over time, numerous buildings have been added. Finally, we'll discover the famous Porta Nigra which was designed as a gate as well as a monument. Even Rome today does not have an ancient building of this size in such a state of conservation. Afterwards, we'll walk round the city center, marked by the Middle Ages thanks to St Peter's Cathedral in particular (exteriors only). Its oldest parts date from 326, but the general layout of the church was considerably altered in the 10th century. You'll also be able to enjoy the atmosphere on the Hauptmarkt - the Main Market square. Highly Baroque and located in the heart of the city center, its mixture of styles will enchant you. Old timber-framed houses mingle with classical pastel-colored houses, decorated with white stucco. At the end of your guided tour, you will have some free time to stroll around the town at your own pace. Return to the boat by coach.
PLEASE NOTE
Comfortable shoes are recommended.
The order of the visits can change.
Times are approximate.