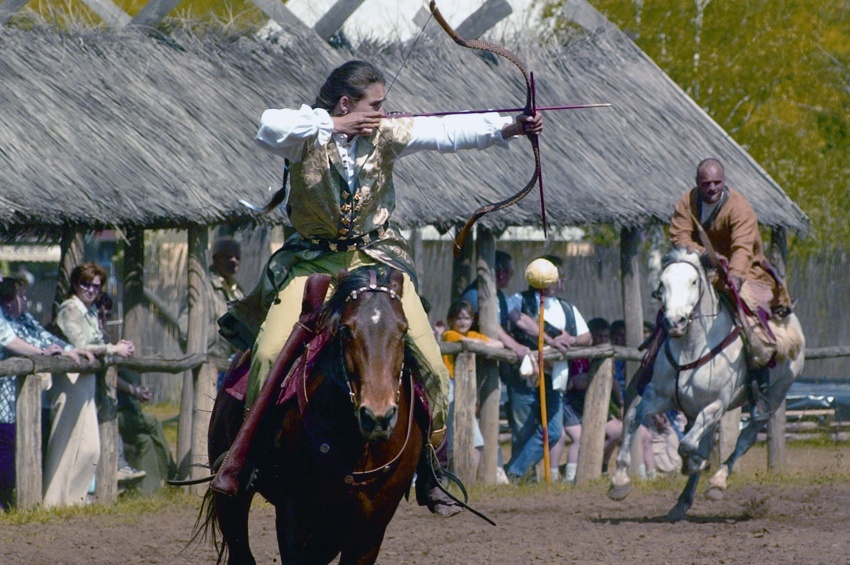 © CroisiEurope
# Trip
Morning in the Puszta (1/2 day)
Description
Departure by coach in the company of your host/hostess in the direction of Kiskunsag Park, at the heart of the Puszta.
The Puszta, also known as the Great Plain of Hungary, is a large, flat grassland that was regarded as the Wild West of Hungary in the 19th century with cow-boys watching over colossal cattle herds grazing on pasture. The Puszta has been listed as a World Heritage Site by UNESCO since 1999.
Riding aboard a charabanc - a traditional horse-drawn carriage with wooden benches - you'll be amazed by the wonderful landscapes and unusual fauna of the Puszta. In a small part of the Hungarian Steppe, you'll get to observe Racka sheep with their spiral-shaped horns, Mangalica pigs with their curly coats and Hungarian Grey cattle with their long, curved horns, as well as rare species of birds. In the course of your visit, you'll get the chance to attend a traditional equestrian show while tasting* "palinka" (plum eau-de-vie) and some "pogacsa" (small savory buns) as well as mineral water, sheltered from the sun under a thatched roof. The csikós, the mounted horse-herdsmen of Hungary dressed in traditional blue attire, will invite you to take part in their "games of skill and ability". Return on board by coach.
PLEASE NOTE
Good shoes, sunglasses, caps and a bottle of water are recommended.
*Alcohol can be harmful to your health. Please drink in moderation.
The order of the visits can change.
Times are approximate.
Cruises
This shore excursion is available for one or several cruises