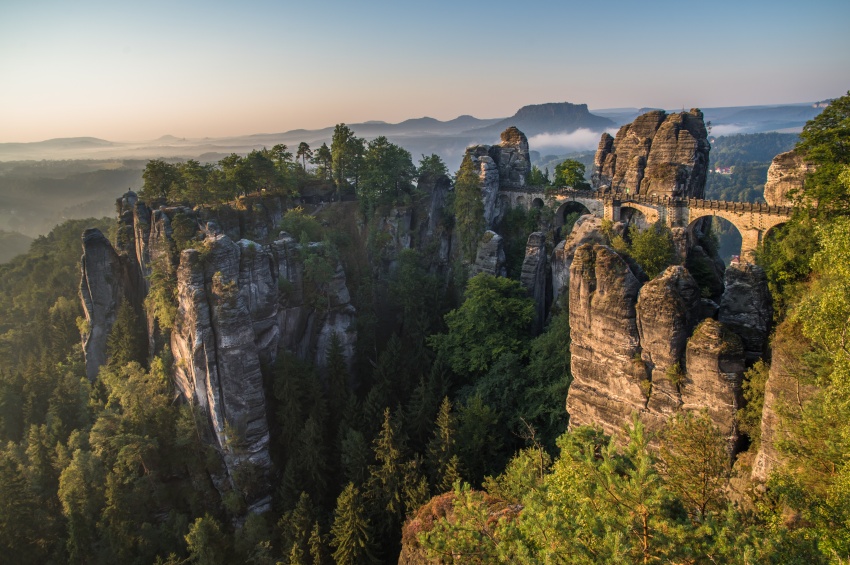 © Konstantin Kalishko
# Trip
Saxon Switzerland : Elbe Sandstone Mountains
Description
We'll leave by coach from Bad Schandau for an excursion to the Elbe Sandstone Mountains, a range straddling the border between the state of Saxony in Southeastern Germany and the North Bohemian region of the Czech Republic. The most striking characteristic of this deeply dissected rocky mountain range is the extraordinary variety of terrain within the small area. The river Elbe runs through the mountain range in a steep and narrow valley, and the hills are dotted with châteaux such as the Königstein Fortress and Hohnstein Castle. We'll visit the Königstein Fortress, dating back beyond the 13th century. Because the fortress was regarded as unconquerable, the Saxon monarchs retreated to it during times of crisis and also deposited many works of art from the famous Zwinger here. In the 20th century, it was used as a prison, a prisoner of war camp, and after the wars, a re-education camp for delinquent youths who did not fit the image of a socialist society. The location offers magnificent views of the Elbe River and the surrounding mountain ranges. After our tour, we'll return on board our ship in Bad Schandau.
Duration : approx. 4:00
The order of the visits can change.
Times are approximate.
If the minimum of 25 participants is not reached, the excursion may be either cancelled or proposed at another rate, depending on the number of participants (to be paid for on board).
The excursions on the first evening and the morning following boarding are only guaranteed for the passengers who have booked the excursion before the cruise.
These excursions are not proposed for all the cruises and depend on the itinerary.
Cruises
This shore excursion is available for one or several cruises