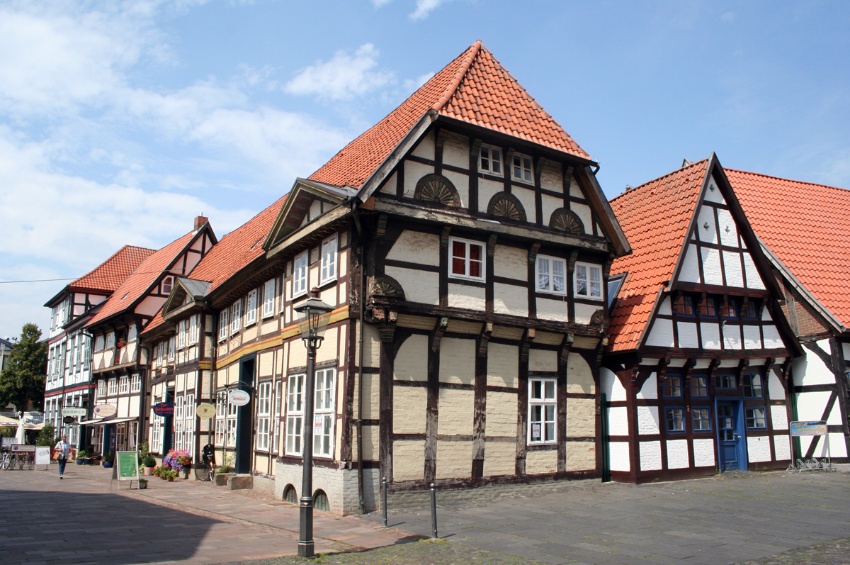 © Touristik GmBH
# Trip
Transfer to downtown Nienburg
Description
Departure by coach in the company of your hostess towards downtown Nienburg.
You'll be free to discover this beautiful little Lower Saxony town at your own pace. Nienburg is famous for its asparagus.
Charming little Nienburg was nicknamed "red town" after the red bricks most of the houses in the city center, St Martin Church and the streets were built and paved with, a style typical of northern Germany. You'll get to follow in the "bear's footsteps" down an educational pathway that was created by the tourist office, a chance for you to discover some of the town's monuments such as the Town Hall from Weser Renaissance, St Martin Church with a statue of Charlemagne standing before it as a reminder of his fight against the Celts in the region, the Kleine Nienburgerin, the bronze statue of a young child from a beloved folk song, and the former Post Office which ensured communication between the Kingdoms of Hanover and England.
Return on board in Stolzenau or Hoja.
Duration : approx. 4:00
The boat will sail during the excursion.
Passengers will visit the town on their own.
The order of the visits can change.
Times are approximate.
These excursions are not proposed for all the cruises and depend on the itinerary.
If the minimum of 25 participants is not reached, the excursion may be either cancelled or proposed at another rate, depending on the number of participants (to be paid for on board).
The excursions on the first evening and the morning following boarding are only guaranteed for the passengers who have booked the excursion before the cruise.
Cruises
This shore excursion is available for one or several cruises