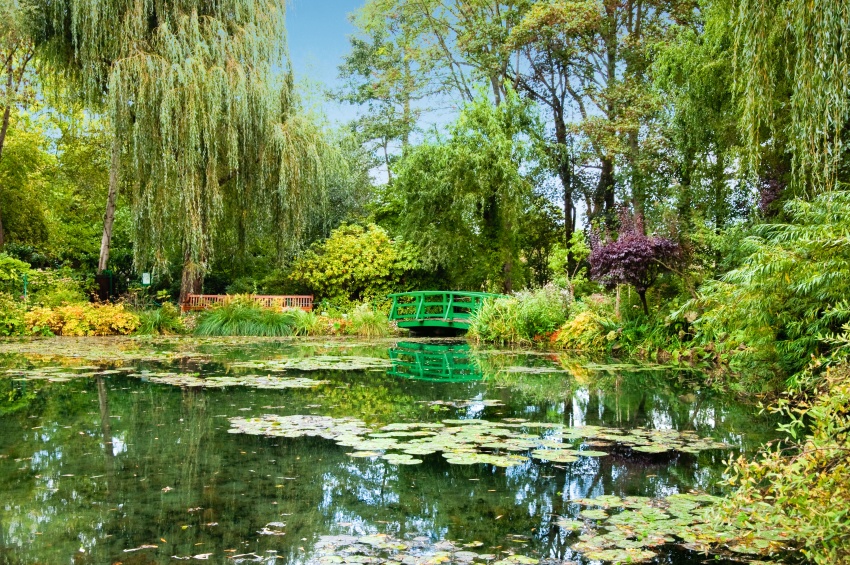 © Shutterstock
# Trip
Visit the Claude Monet Foundation in Giverny
Description
You will leave the boat by coach to travel to the home of Claude Monet. He lived in his Giverny home between 1830 and 1926. His passion for gardening and colors led him to conceive his flowers garden as a true art piece. He even said: "It took a while for me to understand my waterlilies... I grew them without thinking of painting them... A landscape doesn't sink in in one day... And all of a sudden the enchantments of my pond struck me. I took my palette. Since then, I've never had any other model." You can still feel the atmosphere that once reigned in the master of Impressionnism's house when visiting it. You will discover the pink facade while penetrating the garden. Inside, the artist's particular taste for warm tones will strike you, from the intensity of the blue he chose for his kitchen as well as his small living room, to the the yellow walls and furniture in the dining room, where you will also be able to see his private collection of Japanese prints. We'll be back on board in Vernon late afternoon.
Duration: approx. 3:30
Good walking shoes are recommended.
Times are approximate.
According to the weather, you may visit the American Museum of Giverny which exhibits Monet's paintings (extra charge of 4€).
The order of the visits can change.
These excursions are not proposed for all the cruises and depend on the itinerary.
If the minimum of 25 participants is not reached, the excursion may be either cancelled or proposed at another rate, depending on the number of participants (to be paid for on board).
The excursions on the first evening and the morning following boarding are only guaranteed for the passengers who have booked the excursion before the cruise.