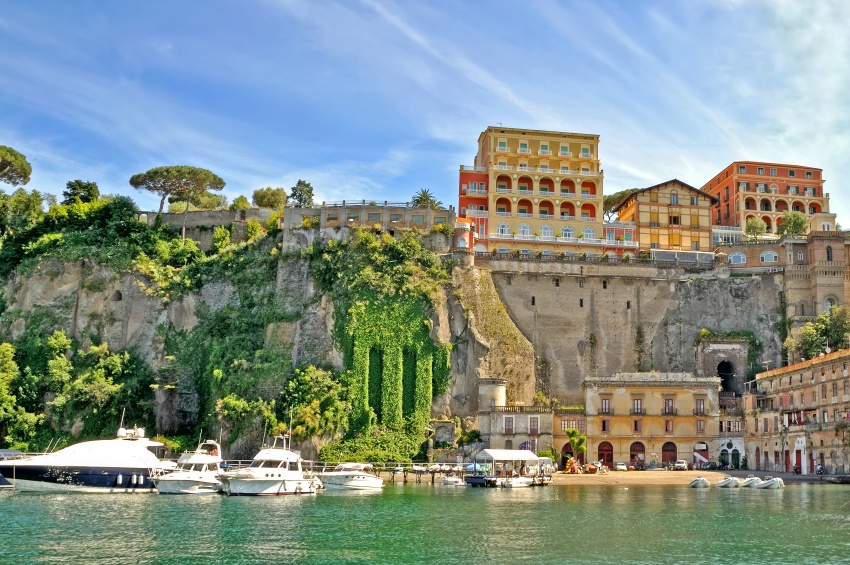 © Fotolia
# Trip
The Amalfi Coast and Sorrento
Description
The Amalfi Coast is a captivating combination of great beauty and gripping drama: coastal mountains dotted with picturesque towns and lush forests plunge into the sea. UNESCO had the entire area declared a World Heritage Site in 1997 for its unarguable beauty and uniqueness of its natural landscape. There are all sorts of scenery on this coast from volcanoes to coves, valleys to mountains, fjords to cliffs, caverns to arches, and sandy beaches to rocky coasts. Writers, artists, heads of state, and actors often flock here for inspiration and tranquility.
We will stop in Sorrento and its extraordinary gardens and landscapes. We'll be able to admire the Sedile Dominova (exterior only), a picturesque open loggia with expansive arches originally constructed in the 16th century, the Church of Saint Francis of Assisi and its cloister (exterior only) and the Villa Comunale.
We'll enjoy a tasting of some local farm products (an assortment of bruschetta, mozzarella, Italian cold cuts, and Limoncello) before discovering one of the most charming tourist routes in the world along the Amalfi Coast.
Return on board in Salerno.
PLEASE NOTE
The order of the visits can change.
Times are approximate.
Good walking shoes are recommended.
Cruises
This shore excursion is available for one or several cruises