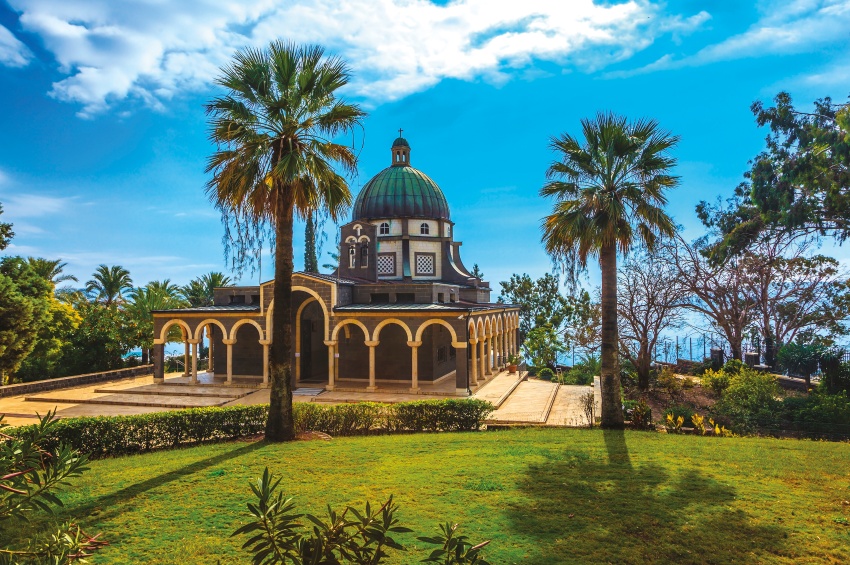 © Shutterstock
# Trip
Galilee and Lake Tiberias
Description
We'll set off by coach for our excursion to Galilee and Lake Tiberias, a freshwater lake known also as the Sea of Galilee or Kinneret in Hebrew. This is the main water source in Israel and is for Christians the place where many of the events described in the Bible occurred. The excursion will first take you to Cana (or Kafr Cana), where Jesus performed the miracle of transforming water into wine. We'll continue on to the Mount of Beatitudes, from where there are wonderful views of Lake Tiberias. This is the hill where Jesus is believed to have delivered his "Sermon on the Mount". You will also visit the Church of the Beatitudes, where the stained glass windows under the dome depict the eight beatitudes of Jesus. Next we'll head for Tabgha, believed to be one of the most beautiful and most peaceful holy Christian sites and which was the scene of many gospel stories. You will also visit the Church of the Multiplication of the Loaves and Fishes which is said to contain the stone on which Jesus placed the five loaves and two fishes that he multiplied in order to feed a crowd of 5,000 people. You will also visit the Church of the Primacy of St Peter, built in 1933 by Franciscans and believed to be where after he had risen, Jesus reinstated Peter as chief among the Apostles. We'll continue to Capernaum, which was the base camp for Jesus during his Galilean ministry. It was here that he was said to have preached to the synagogue and healed the sick, and where he chose his first four disciples Peter, Andrew, James and John from among the local fishermen. We'll visit the Synagogue and the house of St Peter, of which only ruins remain and where Jesus was said to have lived. Next we'll travel to Jordan where Jesus was baptised by John the Baptist.
Duration: approximately 9:00 of which 4 hours will be spent on the transfer there and back
Non-revealing, modest clothing is essential (gentlemen should wear long trousers and ladies should have their shoulders and legs covered).
Good walking shoes are recommended.
The order of the visits can change.
Times are approximate.
Cruises
This shore excursion is available for one or several cruises