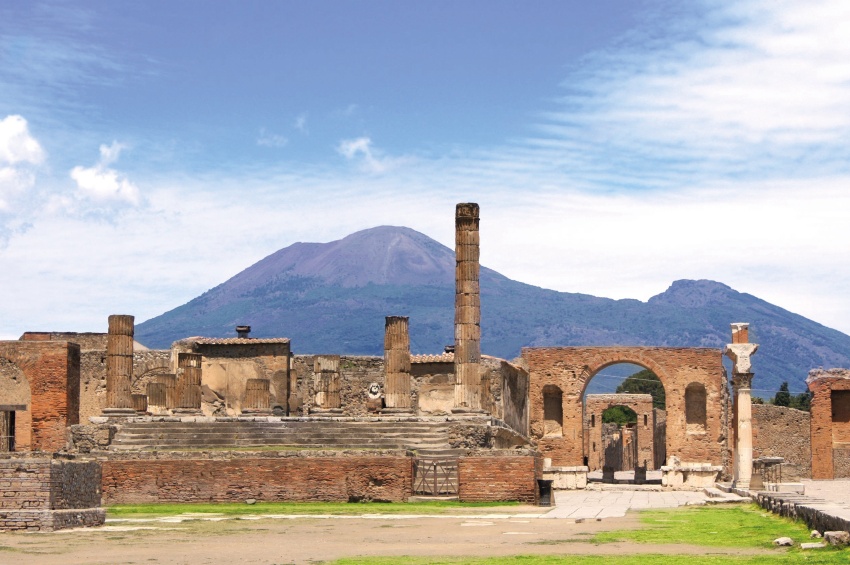 © 123 RF
# Trip
Excursion to Pompeii
Description
We'll leave by coach with our tour guide from Naples and enjoy the scenic 30-minute ride to Pompeii.
A reminder of the violent forces that lie deep inside Mount Vesuvius, Pompeii is Europe's most compelling archaeological site and one of Italy's most visited tourist attractions. Like an open book, the ruins provide fascinating information on the art, customs, trades and everyday life of the past. Alongside the elegant villas belonging to the nobility and the luxurious residences of the middle class stand modest houses where several families lived. The houses still contain furniture, kitchenware, lamps, food of all kinds, grain mills, grindstones, and workshops for making cloth.
Plaster casts of the volcano's victims are moving tributes to their last moments.
Enjoy some free time before returning to Naples.
PLEASE NOTE
The order of the visits can change.
Times are approximate.
Good walking shoes are recommended.
The tour is on foot. You must be able to walk 2 hours on broken ground.
Active excursion requiring effort.This excursion is not recommended for persons with reduced mobility.
Cruises
This shore excursion is available for one or several cruises