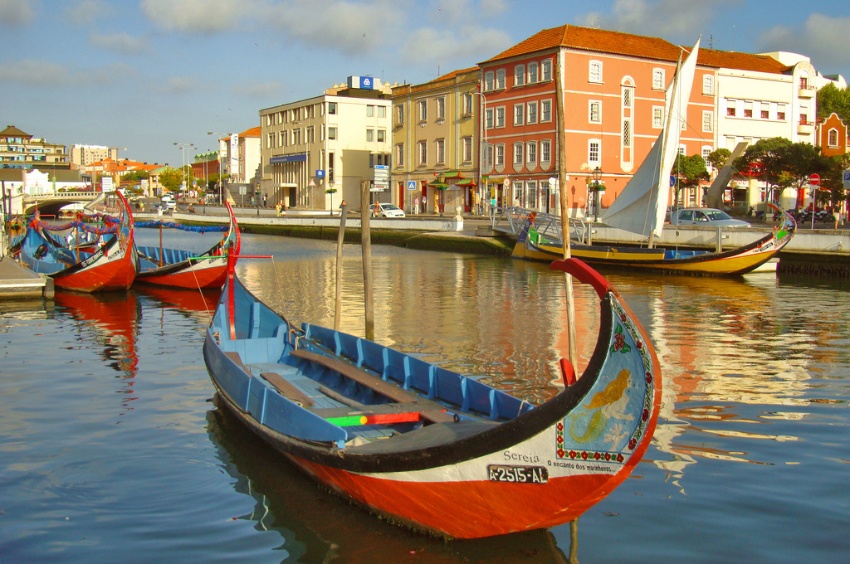 © CroisiEurope
# Trip
Guided tour of Aveiro
Description
Afternoon excursion to Aveiro by coach. Often called the "Venice of Portugal", and known as the salt capital of Portugal, Aveiro is surrounded by salt marshes, beaches and lagoons and is dominated by the Central Canal that runs through the town. This little medieval town, built on a lagoon, expanded rapidly during the 15th and 16th centuries as a sea port thanks to cod fishing. It is also a center for baroque art with its many buildings and monuments. Aveiro has kept several of its typical boats with half-moon shaped prows, the "moliceiros". Nowadays, Aveiro and its surroundings form a very significant industrial region with naval shipyards, engineering, iron and steel works, cellulose-producing factories, porcelain and pottery, and where salt production and fishing are still important activities. Its university is one of the largest in Portugal and there are also several further higher studies buildings. Aveiro is a bright and friendly little town with art-nouveau style architecture, brightly colored houses and charming little alleyways for you to take a lovely stroll. Afterwards, we'll set off for Costa Nova, a typical little fishermen town and former family-friendly resort which has now been restored. The resort is located between the beaches on the Atlantic coast and the lagoon and is open onto the ria. Here there are lots of traditional multi-colored, striped wooden houses lining the promenade which is also planted with palm trees. Return on board by coach in Porto.
Duration : approx. 2:00
Good walking shoes are recommended.
The order of the visits can change.
Times are approximate.
These excursions are not proposed for all the cruises and depend on the itinerary.
If the minimum of 25 participants is not reached, the excursion may be either cancelled or proposed at another rate, depending on the number of participants (to be paid for on board).
The excursions on the first evening and the morning following boarding are only guaranteed for the passengers who have booked the excursion before the cruise.

Cruises
This shore excursion is available for one or several cruises
Show more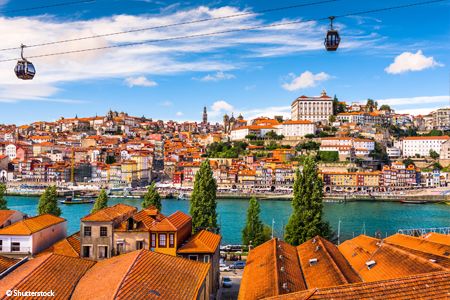 © Shutterstock
Next departures:
10/29/2020, 11/01/2020, ...
PORTO - REGUA - PINHAO - VEGA DE TERON - Salamanca - BARCA D'ALVA - FERRADOSA - PINHAO - PORTO
Visit Spain and Portugal connected by the Golden River. Listed as a UNESCO World Heritage Site, the Douro opens its doors where you will discover terraced vineyards, typical villages, quintas and their wines* all along the river. Explore Salamanca, named as "the small Rome" classified World Heritage by UNESCO, don't miss out its cathedral. Embark for an unforgettable journey through these magnificent countries.
START IN
2020
* Price based on double occupancy
Show more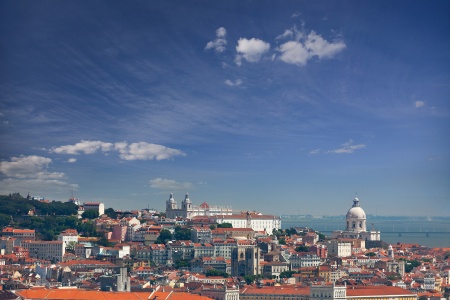 © Alina Pavlova
Next departures:
03/30/2020
Lisbon - Coimbra - PORTO - REGUA - FERRADOSA - PINHÃO - PORTO ANTIGO - PORTO
Lisbon is a city of incomparable beauty, filled with pastel houses, blue waters and trams that evoke San Francisco. The Portuguese capital has managed to find the subtle balance between past heritage and attractive modernity. After a 3-day stay in Lisbon, you'll set out on a round-trip cruise from Porto via Regua and Pinhão (cruise ref. POE_PP).
START IN
2020
* Price based on double occupancy
Show more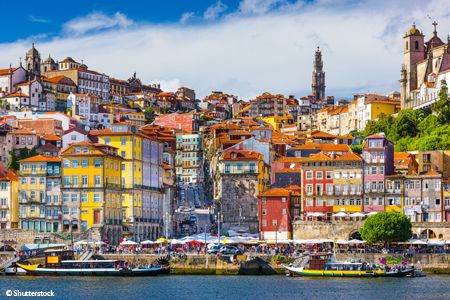 © Shutterstock
Next departures:
03/29/2020, 03/31/2020, ...
PORTO - REGUA - FERRADOSA - PINHAO - PORTO ANTIGO - PORTO
Cruise in the heart of Portugal and the Douro Valley. You'll have the chance to explore Porto and Lamego, cities rich in heritage and tradition, or Aveiro, a charming and authentic Portuguese town.You will also be amazed by the striking beauty of the landscapes while discovering the Porto Wine Route.
START IN
2020
* Price based on double occupancy