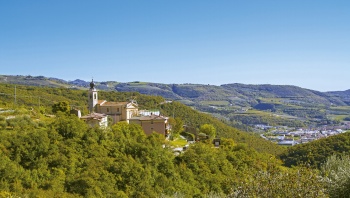 © Eder
# Trip
Hiking through the Lessinia Regional Nature Park
Description
With magnificent scenery and fascinating geological characteristics, Lessinia Regional Nature Park is every hiker's dream. We'll trek the green alpine pastures above the valleys lined with pine and beech forests. The overlooks provide amazing views of the lake and its surroundings. We'll have lunch in a local mountain refuge.
PLEASE NOTE
Please wear comfortable, sturdy walking shoes.
Hike: Approx. 6.2 miles (10 km); Elevation gain: 1,148 feet (350 m).
The times and orders of the visits are for informational purposes only and can change.